A tricky repair using the ROV manipulator arm
August 13, 2016
43o 50′ N 128o 40′ W
The weather is predicted to deteriorate over the next couple of days. We decided it was best not to do our last scheduled dive at Axial Seamount today. Instead, we headed south last night to get ahead of the weather. We will do a dive at Guide Seamount, which is about 90 kilometers off Pigeon Point in California (between San Francisco and Santa Cruz) on Monday and come in to Moss Landing Harbor with the high tide Tuesday morning. This morning we crossed the Blanco Transform, and tonight just as media coverage of the Olympic games is wrapping up, we are crossing the Gorda Ridge. We still have 640 kilometers to go.
Speaking of the Olympics, we had our own show of superior skill yesterday when Senior ROV Pilot Randy Prickett repaired a key part of a push corer handle during the dive. This required great dexterity with the large robotic manipulator arm operated by Randy, who used a small five-function controller with minimal force-grip feedback to move the arm. It also required close coordination with the other pilot, Ben Erwin, driving the vehicle to keep the ROV optimally positioned so the arm could reach and maneuver the part and not obstruct the view from the cameras.
Keep in mind this work was done in the ROV control room of the ship 2,400 meters above the vehicle. A wire "button" had pulled out of the core handle and returning it to the handle meant fitting the wires back into small holes in the core handle. The "button" closes a valve that keeps water from washing the sediment out of the core tube, particularly while the vehicle is being recovered through the waves at the sea surface. This job takes me several fingers of two hands and stereo vision to do in the lab.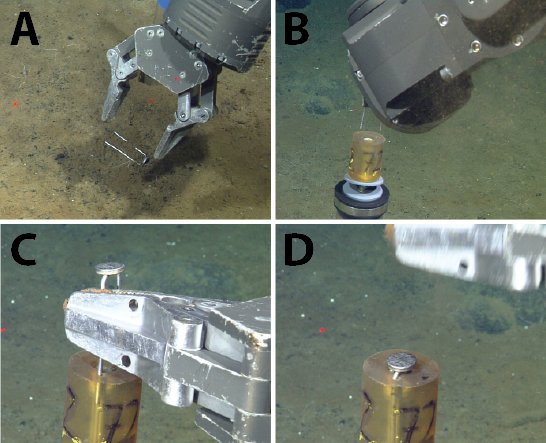 Repair of a push core with the ROV manipulator arm. A: The manipulator arm reaching for the wire "button" lying on the seafloor (red laser dots are 29 cm apart for scale). B and C: Inserting the wires into small holes drilled in the top of the core handle. D: The "button" is successfully pushed in!
—Jenny Paduan