MBARI Summer Internship Program
The Monterey Bay Aquarium Research Institute's Summer Internship Program provides an opportunity for talented college students (undergraduate and graduate) and educators to come to MBARI for a period of 10 weeks to work on a specific project under MBARI staff supervision. Read more about the intern program over the years in the 2019 MBARI Annual Report.
With state-of-the-art facilities and equipment that includes research vessels, remotely operated vehicles (ROVs), and autonomous underwater vehicles (AUVs) to explore the deep ocean, MBARI's Summer Internship Program offers teachers and students unique opportunities to be involved in advanced research and development projects. The focus of the MBARI internship is on the intern's professional development—learning research techniques and improving communication and collaboration skills. Each intern will have an MBARI mentor who will supervise a specific project. Interns will also serve as peer-mentors to other interns.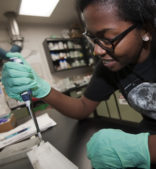 Summer interns are selected following a rigorous application procedure and merit review. They are from around the world and represent a variety of different backgrounds, experience, and education. They all share a common desire to learn more about the marine environment and to work with the scientists and engineers at MBARI. If you are interested in an informal look at this program, please check out the 2017 intern blog.
Applications for the 2022 MBARI internship (June 6 – August 12) will open in November. We are currently planning for an in-person internship but may have to switch to a virtual program if COVID issues are still prevalent. If you are thinking about applying, applications must include a cover letter (stating your general research interests/goals as well as your specific research interests/goals relative to MBARI; complete contact information; relevant coursework and grades received; and the project that you are interested in applying for), curriculum vitae, and one letter of recommendation. We have posted some supplemental application information that might be helpful as you work on your application. Interns are paid a stipend but housing, food, and travel are not provided. We will try and facilitate housing during the program.
Projects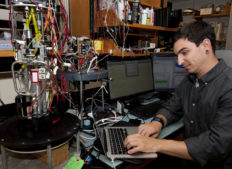 Summer interns are responsible for further developing a project (in conjunction with their sponsor) which can be completed in the 10-week period of the internship, and for carrying the project to completion. The primary purpose of the intern program is for the specific educational benefit of the intern, and to make a contribution to the general good of the oceanographic community. If publications results from this collaboration, the authorship should be a joint authorship (including both the intern and the mentor).
Potential project areas:

Ocean observation systems
Mechanical engineering
Software engineering
Electrical engineering
Sensor development

Physical oceanography
Chemical oceanography
Ocean-floor mapping
Geology
Microbiology

Deep-sea ecology
Web design
Video technology
Science writing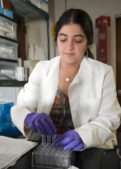 While the focus of the MBARI internship is on the intern's professional development—learning research techniques and improving communication and collaboration skills—interns also participate in a variety of activities which afford them the opportunity to explore California's central coast and to establish a sense of camaraderie with their fellow interns. These activities may include: assisting with MBARI's annual open house event; a "behind the scenes" tour of the Monterey Bay Aquarium; and a kayaking trip on Elkhorn Slough.
The MBARI Summer Internship Program is generously supported through a gift from the Dean and Helen Witter Family Fund and the Rentschler Family Fund in memory of former MBARI board member Frank Roberts (1920-2019) and by the David and Lucile Packard Foundation.