MBARI is strategically located in Moss Landing, California, where its researchers can quickly access the deep waters of the Monterey Canyon. The institute operates two research vessels, the R/V Western Flyer for longer multi-day expeditions and the R/V Rachel Carson mainly for one-day trips out to sea, with occasional longer missions to conduct seafloor mapping. MBARI teams also collaborate with other institutions aboard ships operated by academic and government organizations around the world.
Researchers are very busy during these expeditions, often multi-tasking various science and engineering activities to accomplish their goals within a few days. These cruise logs provide a glimpse into what goes on during an MBARI expedition and what our researchers are doing to help answer important science questions.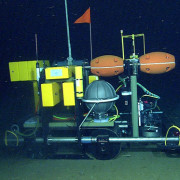 April 18-25, 2018
MBARI's Pelagic-Benthic Coupling Group, led by Chief Scientist Ken Smith, return to their study site at Station M, located 200 kilometers off the coast of Santa Barbara, California, to understand how the supply of carbon affects deep-sea communities on the seafloor.