Small vessel proves to be a real workhorse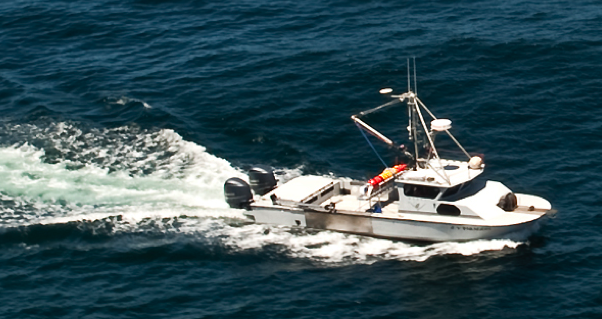 May 2, 2016
The smallest member of the MBARI seagoing fleet, the research vessel Paragon, has become a real workhorse, often running multiple missions in a day. The Paragon came to MBARI in 2012 after an illustrious career in the southern California urchin fishery, followed by a decade supporting marine research for the Partnership for Interdisciplinary Studies of Coastal Oceans. Professors Mark Carr and Peter Raimondi at the University of California, Santa Cruz, arranged for the loan of the vessel to MBARI in the spirit of helping out another marine research organization that is also funded by the David and Lucile Packard Foundation.
Despite its small size, only about ten meters in  length overall, the R/V Paragon has proven itself to be a fast and versatile resource for a range of projects. The vessel is regularly used by dozens of MBARI research and engineering teams and often runs multiple research trips each day. It frequently shuttles autonomous vehicles to and from the Monterey Bay. Wave Gliders, long-range autonomous underwater vehicles, coastal profiling floats, buoyancy gliders, and oceanographic moorings are regular cargo on the back deck. The vessel has also been instrumental in the recovery of moorings and other assets that have either broken free of their anchors or been lost at sea.
The vessel is a unique and complementary addition to the MBARI fleet because nearly a dozen engineers, scientists, and technicians can operate it. The vessel's schedule is also flexible and accommodating. These attributes break down the barrier to ocean access for scientists and engineers, facilitating agile research and iterative design.
The R/V Paragon is regarded as a small vessel at MBARI because its sister vessels, R/V Western Flyer and R/V Rachel Carson, are so much larger, but operationally the R/V Paragon is advantageous due to its stable design and impressive horsepower—making it a highly capable vessel for its size. It is powered by twin 350 HP V-8 gas outboards that yield a top speed of 40 knots and cruising speed around 30 knots. Unlike most pleasure craft of similar size, the R/V Paragon weighs over 10,000 kilograms (22,000 pounds) making it a smooth ride.
Since MBARI adopted the Paragon, the vessel has received an extensive overhaul and many modifications to accommodate individualized research requirements. The vessel is now equipped with the latest electronics, including sonar, GPS, automated identification system, and radar. The vessel boom accommodates 225 kilogram (500 pound) loads and tie downs and custom rails allow the integration of launch and recovery devices, winches, davits, and towing setups designed specifically for the Paragon. Upcoming improvements include a hydraulic system upgrade, installation of a winch for deploying the CTD rosette (an instrument for collecting water samples and measuring ocean salinity and temperature at various depths), and resurfacing and painting the vessel.
—Jared Figurski