Biological Oceanography Group
Francisco P. Chavez, Principal Investigator
We study the biology and chemistry of the ocean in relation to global change. How climate, ocean physics, marine chemistry, and ocean ecosystems co-vary on global to meso scales, and how this affects the temporal and spatial variability in phytoplankton biomass, composition and production.
The primary questions we seek to answer are:
What are the mean and fluctuating components of phytoplankton primary production, biomass and species composition on time scales ranging from days to years.
What are the physical, chemical and biological processes responsible for the mean and fluctuating components.
What controls primary production and phytoplankton growth rates.
What is the role of meso and macrozooplankton in coastal upwelling systems.
What is the fate of primary production?
What are the biological consequences of El Niño.
Focusing on the upper water column, we use instrumentation and systems for long-term ocean observing, such as satellite remote sensing, instrumented moorings and drifters, autonomous vehicles, and ships.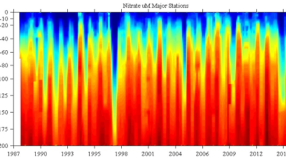 Summary graphs from the Monterey Bay Time Series (MBTS) CTD cruises. Includes physical, chemical, and biological samples. Updated quarterly.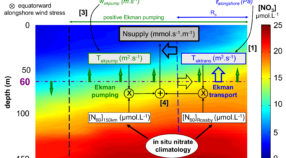 A method combining in situ nitrate concentrations and satellite winds provides estimates of nitrate supply in coastal upwelling regions (available for download).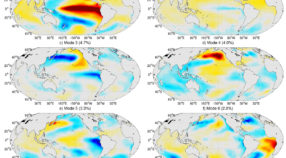 A century-long EOF analysis of global sea surface temperature (SST) identified modes associated with regional climate phenomena. Plots and time series are updated monthly.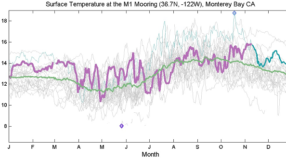 Climatology graphs of sea temperature (0m, 60m 100m), ISUS nitrate, HS Chlorophyll, and upwelling indices from 1990 to the present. Updated daily.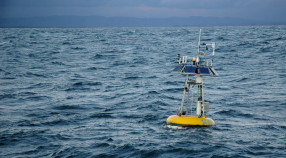 A brief survey of current data from the M1 mooring in graphical representation. Updated daily.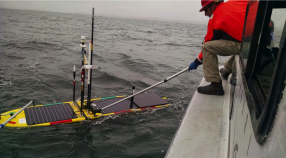 Our lab uses moorings, gliders, AUVs, and CTD measurements to study fundamental oceanographic phenomena.

Senior Scientist/ Biological Oceanographer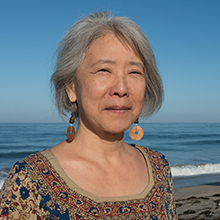 Senior Research Technician