Kelly Benoit-Bird, Principal Investigator
In the ocean, most resources are unevenly distributed and highly dynamic. The Acoustical Ocean Ecology Group investigates how animals respond to constantly changing environments, including how animals find dinner without becoming dinner themselves and the way group behaviors like schooling or cooperation affect predator-prey interactions.
To study the complex, four-dimensional interactions that occur beneath the water's surface, we use acoustic technologies (often called sonar). This is a form of active acoustics, meaning we send out specific sound waves and then listen to how they reflect back, allowing us to "see" the locations and movements of animals beneath the ocean's surface.
Our lab also develops and applies new forms of active acoustic techniques and integrates established technologies into novel platforms. A big part of our work is to combine these tools with other techniques, including underwater cameras, animal tagging, and behavioral modeling.
Through our efforts, we're contributing to the understanding of how patchiness—the variability in resources over space—is critical to how animals from plankton to whales make a successful living.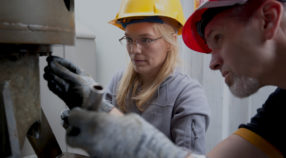 To gather acoustical data, the Acoustical Ocean Ecology Group uses several instruments and vehicles.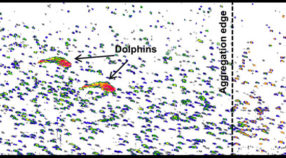 By improving our catalog of known acoustic signatures, we can use acoustics to get much higher resolution understanding of the ocean.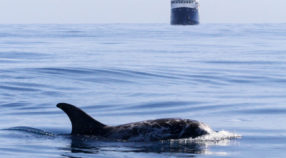 Acoustics enable our lab to look at whole ecosystems in order to study animal interactions and group behaviors.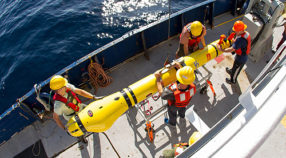 The latest news coverage about our lab.
Publications
Benoit-Bird, K. J.
,
Southall, B. L.
,
Moline, M. A.
, (2016).
Predator-guided sampling reveals biotic structure in the bathypelagic
.
Proceedings of the Royal Society B
,
283
: 20152457.
http://dx.doi.org/10.1098/rspb.2015.2457
Hoving, H.J.T.
,
Gilly, W.F.
,
Markaida, U.
,
Benoit-Bird, K.J.
,
-Brown, Z.W.
,
Daniel, P.
,
Field, J.C.
,
Parassenti, L.
,
Liu, B.
,
Campos, B.
, (2013).
Extreme plasticity in life-history strategy allows a migratory predator (jumbo squid) to cope with a changing climate
.
Global Change Biology
,
19
: 2089-2103.
http://dx.doi.org/10.1111/gcb.12198
Sullivan, J.M.
,
McManus, M.A.
,
Cheriton, O.M.
,
Benoit-Bird, K.J.
,
Goodman, L.
,
Wang, Z.
,
Ryan, J.
,
Stacey, M.
,
Holliday, D.V.
,
Greenlaw, C.
,
Moline, M.A.
,
McFarland, M.
, (2010).
Layered organization in the coastal ocean: An introduction to planktonic thin layers and the LOCO project
.
Continental Shelf Research
,
30
: 1-6.
http://dx.doi.org/10.1016/j.csr.2009.09.001