Bloody-belly comb jelly
(Lampocteis cruentiventer)
The blood-red stomach disguises the glowing prey inside.
Many of the deep-sea animals the bloody-belly comb jelly preys upon can bioluminesce, or create their own light. The translucent predator needs to conceal its stomach—or risk its most recent meal lighting it up from the inside out and alerting potential predators to its whereabouts. Red is nearly invisible in the deep sea, so the vibrant crimson that gives this comb jelly its name is actually helping it hide from its predators.
Bloody-belly comb jellies are ctenophores, not true jellies. Like other comb jellies, they navigate through the water by beating their shimmering, hair-like cilia.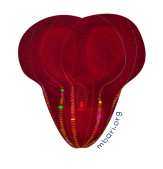 Fast Facts
Maximum size: 16 centimeters (6 inches)
Depth: 300–1,012 meters (980–3,320 feet)
Habitat: midwater
Range: Canada to California, and Japan
Diet: unknown
Harbison, G. Richard, Matsumoto, George I., Robison, Bruce H., (2001). Lampocteis cruentiventer gen. nov., sp. nov.: A new mesopelagic lobate ctenophore, representing the type of a new family (Class Tentaculata, Order Lobata, Family Lampoctenidae, fam. nov.). Bulletin of Marine Science, 68: 299-311.
News stories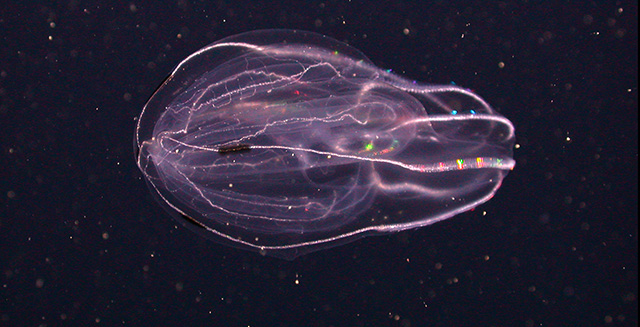 July 3, 2019 – Researchers are developing computer models to learn how comb jellies evolved to live at different depths in the ocean.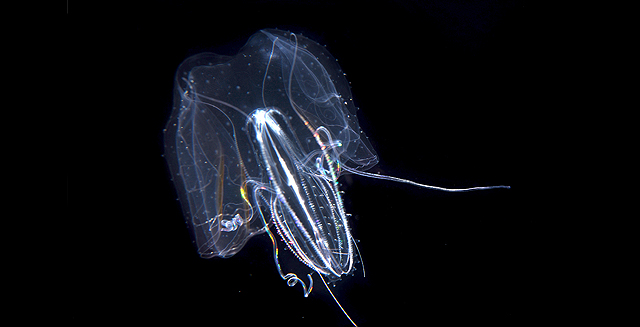 Apr 9, 2018 – Marine biologist Steven Haddock and his team have embarked on an ambitious project to understand the evolutionary history of ctenophores.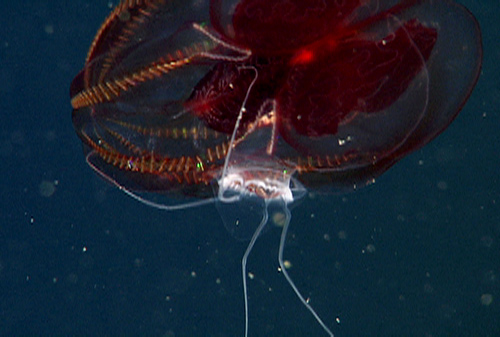 Once the ROV gets back to the Western Flyer, there is an organized frenzy of activity as we remove all the samples from the ROV and get them into the wet lab for processing.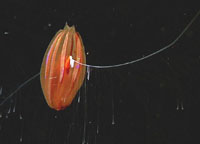 September 16-22, 2014
Steve Haddock's research group and their collaborators study deep-sea gelatinous zooplankton (various types of jelly-like animals). Haddock's research focuses on bioluminescence, biodiversity, and ecology of deep-sea and open-ocean ctenophores, siphonophores, radiolarians, and medusae. In addition to studying the evolutionary relationships of these animals, Haddock is interested in cloning the proteins that enable these jellies to emit light or fluoresce.