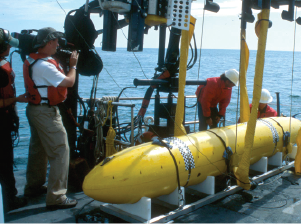 MBARI's communications staff works with reporters, journalists, video production groups, and other media professionals who wish to obtain information and images related to MBARI's research. Because of limited resources, we can only support projects that focus specifically on MBARI's research and technology.
Find answers to commonly asked questions about MBARI and the media.
Review MBARI's policies on the distribution and use of MBARI's still-images and video.
How to arrange onsite media visits and location shoots.
Find out how to reach us.
Follow MBARI on Facebook, YouTube, Twitter, Google+, and via RSS feed
---