Kelly Benoit-Bird, Principal Investigator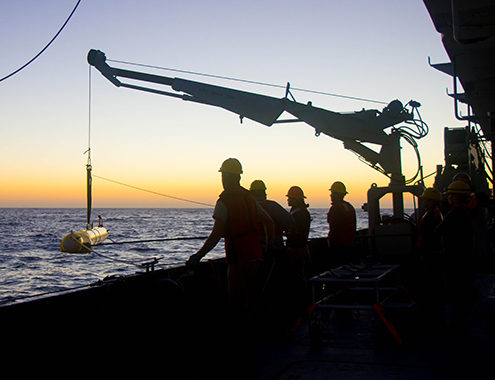 In the ocean, most resources are heterogeneously distributed and highly dynamic. Our research group focuses on the ecological role of these dynamics in pelagic marine ecosystems.
One key area of interest is how animals in the ocean deal with the complex, ever changing landscape—how they find food while avoiding being dinner themselves.
A related area of study is on the effects of behavior like schooling, cooperation, and other 'group' processes on inter-individual and predator-prey interactions.
In order to address complex, four-dimensional problems that occur beneath the water's surface, a significant emphasis of our efforts is the development and thoughtful application of active acoustic techniques, integration of acoustic technologies (often called sonar—sound navigation and ranging) within novel platforms, and the combination of these tools with other approaches including optical sampling, animal tagging, and behavioral modeling, often as part of interdisciplinary research programs
Through our efforts, we're contributing to the understanding that patchiness, the variability in resources over space, is critical to how animals from plankton to whales make a successful living.
"… The emerging picture is one of an incalculably complex, finely tuned, and delicate interaction between predators and prey, chemistry and light, currents and water column, night and day. Some semblance of this spatial ballet, played in weightless three-dimensional darkness, has likely been part of the oceans since the oceans were brought to life: layers of life gathering in extremely high densities to feed or to avoid being eaten."
— (Julia Whitty in a story about our work in Mother Jones Magazine)