Eight long and lanky legs make it easy to move along the deep seafloor.
Like spiders on land, sea spiders—also known as pycnogonids—come in a range of sizes and appearances. They're widespread and occur across a variety of ocean environments. The deep sea is home to the giant sea spider (Colossendeis sp.), which can grow larger than a dinner plate. This spindly spider lumbers along the seafloor on jointed, stilt-like legs.
Instead of spinning a delicate web of silk to trap prey, a giant sea spider uses an elongate, tube-like proboscis to slurp up its prey. While studying the unique communities that form around decomposing whale carcasses on the deep seafloor, MBARI researchers observed a giant sea spider crouched over and clinging to the fleshy tentacle of a pom-pom anemone (Liponema brevicorne). Upon closer inspection, the sea spider was actually sucking out the juices inside the tentacle. Another sea spider was even observed clipping a couple of tentacles and taking its dinner to go!
Fast Facts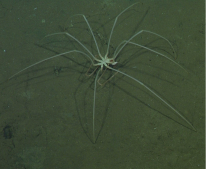 Maximum size: 51 centimeters (20 inches) across
Depth: 2,200-4,000 meters (7,200–13,100 feet)
Habitat: seafloor
Range: worldwide
Diet: sea anemones, hydroids, jellies, and other invertebrates
Braby, C.E., V.B. Pearse, B.A. Bain, and R.C. Vrijenhoek (2009). Pycnogonid-cnidarian trophic interactions in the deep Monterey Submarine Canyon. Invertebrate Biology, 128: 359-363. dx.doi.org/10.1111/j.1744-7410.2009.00176.x
Lundsten, L., K.L. Schlining, K. Frasier, S.B. Johnson, L.A. Kuhnz, J.B.J. Harvey, G. Clague, and R.C. Vrijenhoek (2010). Time-series analysis of six whale-fall communities in Monterey Canyon, California, USA. Deep-Sea Research I, 57(12): 1573-1584. doi.org/10.1016/j.dsr.2010.09.003