These deep-dwelling fish can see through their own foreheads.
Even in a world full of adaptations for seeing in near-total darkness, the barreleye fish (Macropinna microstoma) stands out as one of the most bizarre. Two small indentations where eyes might normally appear on a fish are actually the barreleye's olfactory organs, and its eyes are two glowing green orbs behind its face that gaze up towards the top of its head. 
In 2009, MBARI researchers showed that the fish can rotate its eyes towards the front to see its food when eating. Before that, scientists believed that the barreleye's gaze was fixed looking straight up. Researchers think that the fish hovers below a siphonophore's tentacles to steal food.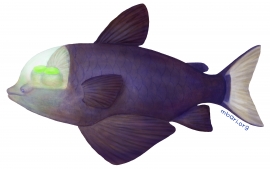 Fast Facts
Maximum size: 15 centimeters (6 inches)
Depth: 600–800 meters (2,000–2,600 feet)
Habitat: Midwater
Robison, B., Reisenbichler, K. R., (2008). Macropinna microstoma and the paradox of its tubular eyes. Copeia, 4: 780-784. dx.doi.org/10.1643/Cg-07-082
News stories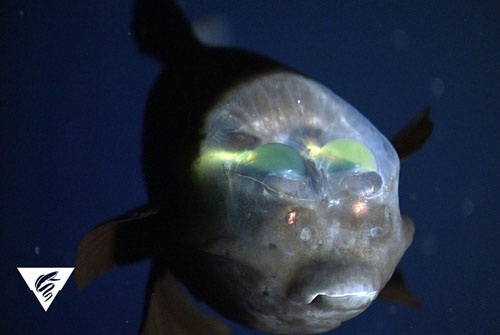 July 7-14, 2015
Steve Haddock's research group and their collaborators study deep-sea gelatinous zooplankton (various types of jelly-like animals). Haddock's research focuses on bioluminescence, biodiversity, and ecology of deep-sea and open-ocean ctenophores, siphonophores, radiolarians, and medusae. In addition to studying the evolutionary relationships of these animals, Haddock is interested in cloning the proteins that enable these jellies to emit light or fluoresce.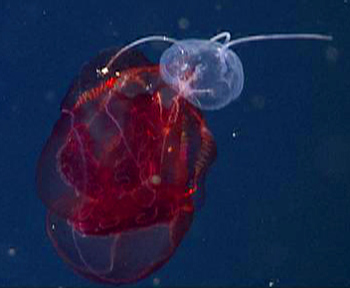 October 22-27, 2012
On this six-day research cruise, the midwater ecology research team, headed by Bruce Robison, will be examining the physiological characteristics of midwater animals relative to the expanding oxygen minimum zone.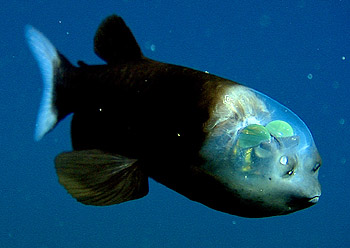 Researchers at the Monterey Bay Aquarium Research Institute recently solved the half-century-old mystery of a fish with tubular eyes and a transparent head. Ever since the "barreleye" fish Macropinna microstoma was first described in 1939, marine biologists have known that it's tubular eyes are very good at collecting light.