MBARI researchers share research stories at American Museum of Natural History
Mar 1, 2018 – The American Museum of Natural History (AMNH) in New York will kick off its upcoming "Unseen Oceans" exhibit with a program featuring two of MBARI's newest researchers—Kelly Benoit-Bird and Kakani Katija.
Benoit-Bird and Katija will join 11 other "ocean luminaries," including National Geographic Explorer-in-Residence Sylvia Earle and several ocean-oriented artists and musicians. The museum says that the event "illuminates the cutting-edge in marine research and inspires wonder about the world's oceans."
UPDATE: You can view all of the ocean luminaries presentations on the AMNH web site here: https://www.amnh.org/exhibitions/unseen-oceans/ocean-luminaries
The "Unseen Oceans" exhibit features MBARI video of deep-sea animals as well as displays that highlight Benoit-Bird's and Katija's research.
Benoit-Bird joined MBARI in 2016 and uses specialized sonar to study the schooling behavior of small animals such as anchovies, as well as the foraging behavior of larger marine predators such as dolphins and seabirds. She has pioneered the use of sonar devices on underwater robots that dive deep below the surface to get extremely detailed views of predator-prey interactions in the wild.
Kelly Benoit-Bird describes her work in this short video:
---
After working as a postdoctoral fellow at MBARI, Katija was hired in 2017 as a Principal Engineer. Her research includes developing tracking tags for gelatinous animals and building laser systems that show water flow around and even inside of marine animals ranging from jellyfish to sponges.
Kakani Katija explains her research in this brief video:
Article by Kim Fulton-Bennett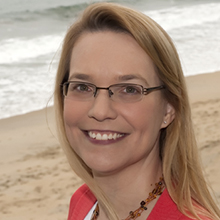 Senior Scientist & Science Chair

For additional information or images relating to this article, please contact: Kim Fulton-Bennett
831-775-1835, kfb@mbari.org