David A. Clague
SENIOR SCIENTIST/GEOLOGIST/VOLCANOLOGIST
Monterey Bay Aquarium Research Institute
7700 Sandholdt Road
Moss Landing, CA 95039
Phone: (831) 775-1781
email: clague@mbari.org
Dave's research interests are nearly all related to the formation and degradation of oceanic volcanoes, particularly Hawaiian volcanoes, mid-ocean ridges, and isolated seamounts. Topics of interest include: compositions of mantle sources for basaltic magmas and conditions of melting; development and evolution of magma chambers beneath spreading centers and Hawaiian volcanoes; volatile and rare-gas components in basaltic magmas and their degassing history; chronostratigraphic studies of eruption sequence and evolution of lava chemistry during volcano growth; subsidence of ocean volcanoes and its related crustal flexure, plate deformation, and magmatic activity; formation of cumulate xenoliths during different stages of Hawaiian volcanism; transport of volcaniclastic sediment on submarine slopes of volcanoes; geologic setting of hydrothermal activity; origin of isolated seamounts; monitoring of magmatic, tectonic, and hydrothermal activity at submarine and subaerial volcanoes; emplacement dynamics of subaerial and submarine lava flows; slope instability on volcanoes.
Submarine Volcanism  | Curriculum Vitae |  Our Cruise Logs  |  Seafloor Mapping AUV
In MBARI news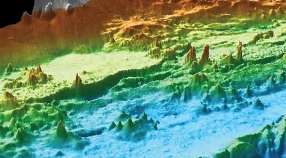 April 28, 2020 – MBARI's underwater mapping efforts off the Pacific Northwest have revealed almost 600 hydrothermal chimneys rising from the deep seafloor.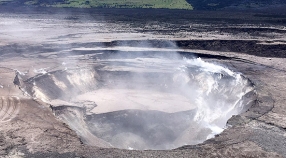 April 25, 2019 – MBARI researchers recently created a new map of Loihi, an undersea volcano that will be the next Hawaiian Island.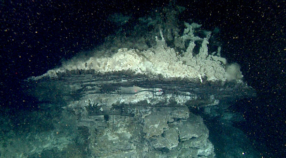 Nov 1, 2018 – Building on their 2015 expedition, MBARI researchers will be mapping the Pescadero Basin and searching for hydrothermal vents.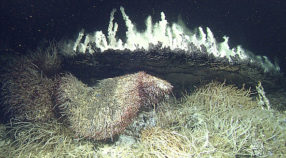 Jul 24, 2017 – Despite their close proximity, two recently discovered hydrothermal vent fields in the Gulf of California host very different animal communities. This finding contradicts a common scientific assumption that neighboring vents will share similar animal communities.