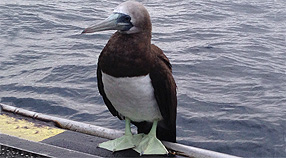 Last week researchers working onboard the R/V Rachel Carson received a surprise visitor—a handsome seabird called a brown booby. Brown boobies are usually associated with warm tropical waters. This bird was far from home!
The MBARI summer internship program provides an opportunity for college students and educators to come to MBARI for 10 weeks to work on a project under MBARI staff supervision. Applications are due Feb. 13, 2017.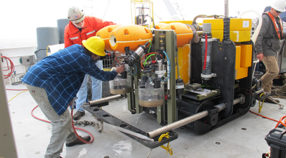 MBARI's Benthic Rover, an autonomous seafloor crawler, recently broke it's own world record, spending over a year autonomously crawling across the deep seafloor and collecting scientific data without any help from humans.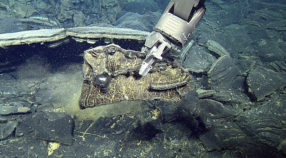 Axial Seamount, a large underwater volcano off of the Oregon coast, is one of the most active volcanoes in the world, having last erupted in 2015. At the Fall 2016 meeting of the American Geophysical Union, MBARI researchers unveiled a new seafloor map that reveals previously undocumented lava flows from the 2015 eruption.