2017 Summer Intern Profile: Victoria Assad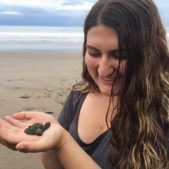 Name: Victoria Assad
Project/Mentor: Deep-sea benthic associations with CO2 flux with Ken Smith and Christine Huffard
School: California State University, Monterey Bay
Hometown: Los Angeles, California
Tell us about your project: I'm working on studying how the food supply affects the behavioral patterns of the benthic acorn worm Tergivelum baldwinae. Basically, these little guys are known for creating fecal spirals. I'm seeing how that behavior might change based on how much food is available to them, which has been changing a lot recently as a result of CO2 flux and climate change. I'm doing all this work from tripod images made by the Pulse trips at Station M and using VARs for images to collect my data. I'm having a lot of fun with it so far and researching these guys has been a blast!
Why did you want to intern for MBARI: I've always been that person extremely fascinated by the "weird" creatures on the planet. Show me something funny looking or that has some odd behavior and I'm so excited I'll be bouncing on the balls of my feet. So the deep sea has always been a passion of mine, and anything marine related at all when it comes down to it. Since I've decided to go into marine science I've wanted to intern at a place where deep-sea research is a focus, so MBARI was the absolute perfect fit for me. I was so excited after seeing it affiliated with the REU at CSUMB.  When I saw there was a change to work with Ken and Crissy on their focuses in the deep sea, there was no option but to put them down as my top choice. I am so glad I got placed with them!
What's been your favorite part of MBARI so far: I think my favorite part of MBARI so far has been seeing how passionate people are in their projects. Whether it's the interns or the mentors, everyone seems to have interest and enjoyment in their work. It's amazing to be surrounded by people like that. My favorite thing is to see people passionate about something, and being in a place like MBARI makes me excited about what I'm doing too. I also love all the other interns. Y'all are so cool and I'm so happy to be working alongside you guys for the rest of the summer. I can't wait to see what everyone comes up with!
And, if you had a boat, what would you name it? Probably something really cheesy like Vitamin Sea.
Meet the rest of MBARI's 2017 Summer Interns