Designing ROV end-effectors for robust undersea physical interactions
Hannah Stuart
Embodied Dexterity Group
University of California, Berkely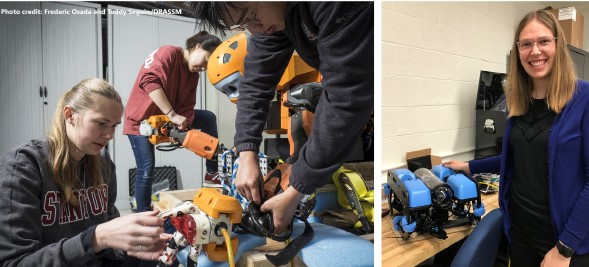 March 20, 2019
Pacific Forum—11:00 a.m.
Mobile robots in the ocean must be able to perform a variety of physical interactions (e.g., manipulation, anchoring, and sampling) via the robot's end-effectors, or hands. The Embodied Dexterity Group (EDG) at the University of California, Berkeley, is interested in improving robot dexterity through building end-effectors with embodied intelligence and robustness, especially for challenging submerged or wet environments. This includes the design of novel grippers and hands, touch perception for autonomous or teleoperated interventions and bioinspired manipulation strategies, such as suction sampling. This vision includes the advancement of relevant design analysis tools and the validation of concepts by applying technologies in the field.
Dr. Stuart's most notable work to date includes the design of hands for the Ocean One diving humanoid that was deployed to the La Lune shipwreck in the Mediterranean Sea. This talk will also feature more recent designs, findings, and initial field trial results using a much smaller remotely operated vehicle (ROV) platform intended for cheaply collecting large sets of coral biodiversity tissue samples.
Next: March 27—Eric Crandall, California State University, Monterey Bay