Scientists urge world leaders to respond cooperatively to Pacific Ocean threats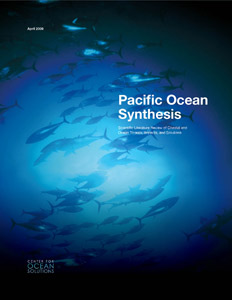 More than 400 leading scientists from nearly two-dozen countries have signed a consensus statement on the major threats facing the Pacific Ocean. The threats identified as the most serious and pervasive include overfishing, pollution, habitat destruction, and climate change.
"This is first time the scientific community has come together in a single voice to express urgency over the environmental crisis facing the Pacific Ocean," said Meg Caldwell, executive director of the Center for Ocean Solutions (COS), who presented the statement on May 13 to government officials gathered at the World Ocean Conference in Manado, Indonesia.
The consensus statement was prepared by COS  and is largely based on a synthesis of more than 3,400 scientific papers on the threats and impacts to the Pacific.
Based in Monterey, Calif., the Center for Ocean Solutions is a collaboration of three marine science and policy institutions—Stanford University (through its Woods Institute for the Environment and Hopkins Marine Station), the Monterey Bay Aquarium, and the Monterey Bay Aquarium Research Institute (MBARI). The center focuses on finding practical, enduring solutions to major challenges facing the oceans.
For more information about the Center for Ocean Solutions and the Pacific Ocean Initiative, please see the following: