Processes of a tectonically-active continental margin
The continental margin of California was a subduction zone until the mid-Cenozoic. The Farallon tectonic plate subducted under the North American plate and was eventually consumed, sedimentary and crustal material was accreted to the continental margin (now exposed in the Patton Escarpment in the California Borderland), and the granite batholiths in the Sierra Nevada range were emplaced.
The tectonics of central California changed with the passage through the area of the triple-junction now off Mendocino; subduction is still occurring off Oregon and Washington. Now our continental margin is being deformed by the generally strike-slip motion of the San Andreas fault, as the Pacific plate moves north-west relative to the North American plate, carrying the sliver of coastal California with it. Adjustments to the motions of the plates have occurred, which in some places generated tensional forces and subsequent volcanic activity (see the continental margin seamounts page), and in other places generated compressional forces, such as are currently uplifting the Santa Cruz mountains.
Related to the active tectonics of the area, are the erosion that shapes the Monterey canyon and the seepage of methane and sulfide-rich fluids that influences the biology. Our group has been involved in these studies, despite there not being a volcanic component. Much more information about these processes can be found in the related links below.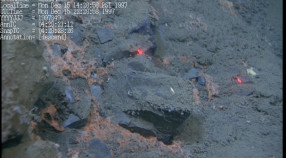 In the late 1970s, oceanographers were astounded to discover flourishing communities of animals clustered around deep-sea hydrothermal vents.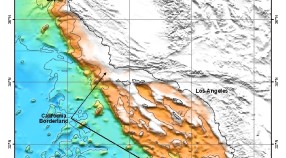 The geologic history of the region offshore of Southern California iis complicated by the fact that it is largely submerged, heavily sedimented, and many of the rocks from which interpretations have been made were probably erratics.
Publications
Goffredi, S. K.
,
Johnson, S. B.
,
Tunnicliffe, V.
,
Caress, D.
,
Clague, D
.
,
Escobar, E.
,
Lundsten, L.
,
Paduan, J. B.
,
Rouse, G.
,
Salcedo, D. L.
,
Soto, L. A.
,
Spelz-Madero, R.
,
Zierenberg, R.
,
Vrijenhoek, R.
, (2017).
Hydrothermal vent fields discovered in the southern Gulf of California clarify role of habitat in augmenting regional diversity
.
Proceedings of the Royal Society B
,
284
: .
http://dx.doi.org/10.1098/rspb.2017.0817
Sanborn, Kelsey L.
,
Webster, Jody M.
,
Yokoyama, Yusuke
,
Dutton, Andrea
,
Braga, Juan C.
,
Clague, David A.
,
Paduan, Jennifer B.
,
Wagner, Daniel
,
Rooney, John J.
,
Hansen, John R.
, (2017).
New evidence of Hawaiian coral reef drowning in response to meltwater pulse-1A
.
Quaternary Science Reviews
,
175
: 60-72.
https://doi.org/10.1016/j.quascirev.2017.08.022
Chadwick, W. W.
,
Paduan, J. B.
,
Clague, D. A.
,
Dreyer, B. M.
,
Merle, S. G.
,
Bobbitt, A. M.
,
Caress, D. W.
,
Philip, B. T.
,
Kelley, D. S.
,
Nooner, S. L.
, (2016).
Voluminous eruption from a zoned magma body after an increase in supply rate at Axial Seamount
.
Geophysical Research Letters
,
43
: 12063–12070 .
http://dx.doi.org/10.1002/2016GL071327
Full publications list