Ocean Chemist Peter Brewer served as a senior scientist at MBARI from 1991-2017, including a term as executive director from 1991-1996, during which time he completed major laboratory and ship-construction programs and doubled the size of the institution, before returning to full-time research. He remains a senior adjunct at MBARI and serves on the Major Projects Review Board of the Hong Kong University Grants Committee, on the National Academy of Sciences Convergence Advisory Group, and as an independent scientist to the BP Gulf of Mexico Research Institute Board.
Evolutionary Biologist Robert Vrijenhoek served as a senior scientist at MBARI from 1999-2017. His research focused on the ecological and evolutionary consequences of genetic diversity in animals and associated microbes. He remains a senior adjunct at MBARI.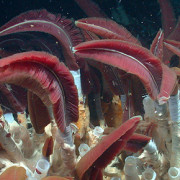 The Molecular Ecology Group described how factors—such as geographic distance, topology of the seafloor, and deep-sea currents—affect the stability and dispersal of vent clams, mussels, snails and tubeworms, and studied the genetic connections among populations such as these, especially those that thrive in environments like hydrothermal vents, hydrocarbon seeps, wood, and whale falls.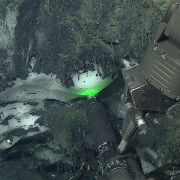 Investigations of the physical and environmental chemistry of carbon dioxide and methane using MBARI's advanced technology.
Related