2017 Summer Intern Profile: Rachel Kahn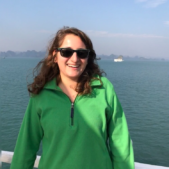 Name:  Rachel Kahn
Project/Mentor: Spatial Temporal Oceanograhpic Query System (STOQS) with Mike McCann
School: Recent grad of Scripps College
Hometown: Laguna Woods, California
Tell us about your project:  STOQS is an open source, web-based software package developed to allow for visualization of oceanographic data (for more info, see the STOQS website here). This summer, I have the opportunity to contribute to the software, which is in continuous development, by implementing machine learning techniques to label data. This will enable the computer to generate models, and will hopefully help scientists learn more from the data.
Why did you want to intern for MBARI: I have been interested in the ocean since I was old enough to have interests. As an undergraduate, I found myself gravitating toward physics and engineering, and their intersection with other fields like ecology, physiology, and geology. I'm trying to figure out which direction I'd like to take my career, so I wanted an opportunity to explore the field of engineering and expose myself to as many different aspects of marine science/engineering as I could.
What's been your favorite part of MBARI so far / What are you looking forward to: My favorite part of this experience so far was a week-long research cruise with Steve Haddock's bioluminescence lab (Thanks, Steve!). It was so cool to see the ROV Doc Ricketts in action, and to see the deep sea in real time. I've already learned so much and tried many new things here at MBARI, and I am so excited to see what the rest of the program has in store.
And, if you had a boat, what would you name it?  R/V Schrödinger's Fish 
Meet the rest of MBARI's 2017 Summer Interns