Interviews with MBARI Staff
In the interviews below, MBARI staff members discuss their job responsibilities and describe how their interests and experience led to their respective careers at a marine sciences research institution.
---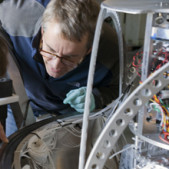 Jim Birch
Director of the SURF Center
What are your primary responsibilities as Director of the SURF Center?
The SURF Center is an "umbrella" under which all activities related to the the Environmental Sample Processor (ESP) take place. My responsibilities include helping generate external money, managing existing grants, and helping the engineers and scientists reach the milestones promised in the development of this instrument.
How and when did you become interested in marine science?
My love for the ocean came late in life, mainly because I lived much of my early life in the Midwest; there was little contact with either coast. Despite this handicap, I have always been curious about how organisms "work," particularly what physical/mechanical principles were responsible for, say, the shape of bird wings, or the structure of the inner ear in dolphins that allows underwater communication. This curiosity led to me asking why there is such a diversity of lifestyles and living things on the planet, and the study of evolution was a natural outcome from these questions. From these interests, the move to marine science was very easy.
What did you do to prepare yourself for a career in marine science?
I am not a classically trained marine biologist, but bring a background of instrument design to get at functional questions and evolutionary biology. My undergraduate degree is in Zoology from the University of North Carolina, and I received my Ph.D in Evolutionary Biology from the Mammal Division of the Museum of Zoology at the University of Michigan. Instrument design experience in the various laboratories I've worked in before coming to MBARI has helped prepare me for the needs of marine science.
What is your current project and how did you settle on your specific topic of research?
I am currently working with others in the SURF Center to design the next generation Environmental Sample Processor instrument, which will allow more rapid identification of microbes in the ocean. I did not really 'settle' on this topic, but was curious about how technology could be used to better monitor ocean processes, and this curiosity led to opportunities that put me where I am today.
What do you hope to accomplish through your research and what would you like the public to know about its significance?
Ocean microbes are the unsung heroes of our planet, with most people only experiencing their negative effects, as when their favorite beach is closed due to a harmful algae bloom, or they eat tainted shellfish. But the vast majority of ocean microbes provide a critical function for our planet, taking nitrogen in a form unavailable to living things, and converting it to something that supports the food web and all the seafood we eat. Microbes also are critical in carbon cycling, and play an important role in removing excess carbon dioxide from the atmosphere. The instrumentation we are developing will help to better understand these functions, as well as providing technology that can more accurately (and inexpensively) monitor water quality.
Finally, what do you like best about your job?
The thing I like best about my job is being able to work closely with people that have excellent skills and training in fields very different from my own. This has allowed me to stay curious and continue to learn, all the while working in an area that, in a small way, helps us and the planet.
---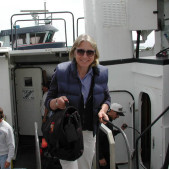 Judith Connor
Director of Information and Technology Dissemination
What are your primary responsibilities as Director of Information & Technology Dissemination Division?
I'm responsible for hiring and mentoring the excellent people who work in the ITD division. Our team provides library, video, writing, and administrative support for MBARI projects. We take the lead on educational projects such as the MBARI intern program and we communicate information, images, and news about the research institute to the public. As a member of MBARI's senior management team, I review project proposals and help allocate resources for MBARI research and development projects. I also manage MBARI intellectual property and the technology transfer efforts to get our innovations out to the greater oceanographic community.
How and when did you become interested in your field?
I studied biochemistry and botany as an undergraduate and my interest in the oceans developed later. My first job after college was at the Smithsonian Institution's Natural History Museum. It led into a three year expedition to the Caribbean living on a boat studying tropical reefs and learning about the ocean. That experience developed my interest in algae and commitment to ocean studies and a lifelong passion to keep learning and sharing information about marine environments.
What did you do to prepare for your position?
My graduate work in ocean science (a Ph.D. at the University of California, Berkeley and post doctoral research at Stanford University) provided the foundation for my career. Subsequent training in management, negotiations, and technology transfer (at Stanford's business school and with the Association of University Technology Managers) was helpful for understanding human resource issues and the technological aspects of my current work. At MBARI we're learning constantly—every week there's something new, so our education never ends.
What drew you to MBARI?
I was working at the Monterey Bay Aquarium in 1987 when Dave Packard founded MBARI. It was fascinating to see a whole new oceanographic institution come into being. I worked as the aquarium's liaison to MBARI and helped develop an exhibit and an auditorium program using "live" video from MBARI's remotely operated vehicles. I could see how useful the video would be for research use. When a position came up to work with MBARI video, I jumped at the chance and was thrilled to be selected.
What is your favorite part of the job?
Creative work with the other members of my team is the most satisfying aspect of my job. It's fun and exciting to brainstorm new ideas for outreach and plan education and video projects. I enjoy writing, editing, and design work on the annual report and the MBARI web. We aim for results that are informative, readable, accurate, and beautiful. I also like to travel and spread the word to outside groups about MBARI's accomplishments.
---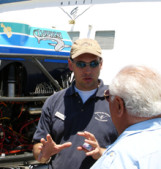 Kevin Gomes
Engineering Group Leader
What are your primary responsibilities as Engineering Group Leader?
As an Engineering Group lead, we are allocated to work 1/3 of our time in a group lead role which includes making sure the engineers have the resources and support they need to accomplish the engineering tasks defined in the project work and in the day-to-day operation of our assets. The rest of our time is spent just like every other engineer doing project work and developing new capabilities for our science and operations groups. While it is difficult to manage both at times, there are rewards to being able to help both in technical and non-technical ways.
How and when did you become interested in your field?
I have been interested in engineering for as long as I can remember. Being a science fiction fan, I gravitated to robotics very early with visions of creating machines that could do the dangerous or boring tasks that humans were currently doing. That led to technology related electives in high school, a couple of engineering degrees, some engineering work experience and finally getting a job at MBARI.
What did you do to prepare yourself for a career in marine science?
Fell in love with the ocean! Along with my passion for technology, I had a similar love for the ocean from when I was young, watching Jacques Cousteau on his many wonderful excursions. I became a SCUBA diver in college and spent many hours enjoying the beautiful underwater world. The combination of technology and love of the ocean made me realize that it would be ideal if I could combine both my passions and make a difference. All during my engineering work in college, I geared my creations towards functionality in the ocean which helped in my quest to learn more about oceanography.
What is your current project and how did you settle on your specific topic of research?
One of the things the I love most about MBARI is that, as engineers, we don't necessarily have to focus on one topic. While currently working on software for the Environmental Sample Processor (ESP), software for data management, user interfaces for various systems, etc., I have also done work with embedded platforms and robotics. MBARI offers many opportunities to get involved in various topics, and that is what I love most about it. As engineers, we get to work with all areas of science and learn so, so much through our experience with the various groups. It is remarkable!
What do you hope to accomplish through your research and what would you like the public to know about its significance?
From a technology perspective, I am always trying to push towards cheaper, faster, lighter, and more persistent. One of the biggest problems in oceanography is that the ocean is under-sampled and current sampling methods are expensive (big ship, lots of time, people, and fuel). I would like to build instruments and platforms that can be spread throughout the ocean for low cost while providing good sample coverage and can survive for longer periods of time. While that may sound boring, that goal encompasses so many exciting technologies. The public probably would not see this directly (unless they were specifically interested), but they would see better data which will improve their understanding of the ocean.
Finally, what do you like best about your job?
That I get to do what I love! It really is an incredible experience as an engineer to work from inception to deployment on our engineering developments. In industry, engineers often times work on a single part or components and often never get to interact with end users of their work. Being able to sit down with a scientist, figure out what will help them and then design, build, test and deploy your creation in the field is just something you don't often see in a normal engineering job. Also, knowing that I am contributing to a better understanding of our oceans and how we manage its precious resources puts the crowning jewel on it for me. It goes with out saying, but I will anyway, I love what I do!
---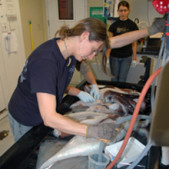 Christine Huffard
Former MBARI Postdoc
Midwater Ecology Lab
How and when did you become interested in marine science?
When I was a kid my family used to vacation along the Jersey Shore. I loved catching fish, crabs, snails, anything, and wanted to work with the ocean for a living if I could.
What did you do to prepare yourself for a career in marine science?
I majored in Marine Science as an undergraduate and took every opportunity I could to take field courses or volunteer on field research projects.
What is your current project and how did you settle on your specific topic of research?
I currently study the reproduction of squids and octopuses. When I was an undergrad I had the chance to work with Eric Hochberg at the Santa Barbara Museum of Natural History, learning how to describe new species of octopus. Even though they are very abundant animals and major food sources for sharks, marine mammals, seabirds, etc., we know very little about cephalopods. This sense of mystery enticed me into the field. My next job will be to monitor the health of coral and fish communities in Indonesia. I settled on this because I wanted to conduct science that was directly helpful to the people protecting natural resources.
What do you hope to accomplish through your research and what would you like the public to know about its significance?
Seemingly insignificant changes in the environment can add up to make big differences in the way animals and algae survive and reproduce. The more we understand the daily lives and interactions of marine algae and animals, the better we can help them maintain healthy populations if their habitat is disturbed.
Finally, what do you like best about your job?
Getting to learn for a living, and hopefully making a difference in how marine environments are protected.
---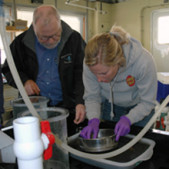 Shannon Johnson
Research Technician
Molecular Ecology Lab
What are your primary responsibilities as a research technician?
As a research technician I have many responsibilities like going to sea to collect specimens. Luckily, we study things not only in the Monterey Bay, but all over the world. I also work on the specimens we collect in the lab, extracting and sequencing DNA and then using statistics to analyze them. I also write and publish papers. A big part of my job is helping to coordinate our lab and help collaborators with their research. I feel like my job is the best of both worlds: we get to go to sea which is really fun, but we also get to study the evolutionary history of very interesting deep-sea invertebrates.
How and when did you become interested in marine science?
I became interested in marine science indirectly. I was working in a genetics lab at University of California, Los Angeles and we were looking at using lower invertebrates to answer evolutionary questions. I really liked molecular biology already, but I also really enjoyed going into the field and collecting the animals.
What did you do to prepare yourself for a career in marine science?
I got a B.S. in organismal biology, ecology, and evolution from UCLA, then I went to graduate school at Moss Landing Marine Laboratories in the invertebrate zoology and molecular ecology lab. I also got my research diver certification for SCUBA.
What is your current project and how did you settle on your specific topic of research?
My current projects include working on population genetics and phylogenetics of hydrothermal vent limpets, the bone worms (Osedax), and provannid snails. I am also processing water samples collected by the AUV Gulper to identify invertebrate larvae. The AUV (autonomous underwater vehicle) swims around, and when it detects an oceanographic feature like a thermocline, it samples some water. This is important because invertebrate larvae are tiny, and not great swimmers, and can be "stuck" in density gradients. Where the larvae are and how they get there is very interesting to us since we study gene flow.
What do you hope to accomplish through your research and what would you like the public to know about its significance?
I hope to better understand gene flow for many different animals. By doing this we can understand connectivity between ecosystems and hopefully protect them. We also find loads of new species! Who ever knew there were so many animals in the ocean we never knew existed? Until a few years ago, we didn't know the bone-worms existed; now we have 15 new species in the Monterey Bay alone! We also have many new species of snails, crabs, an anemone, and other kinds of worms at the whalefalls we study. This shows me we have only scratched the surface of understanding the biodiversity of the ocean. This is very important to people because the ocean gives us oxygen, food, recreation, etc. If we don't understand it, we can't properly protect it and take care of it.
Finally, what do you like best about your job?
My job is so fun! It is constantly changing, which keeps it very exciting. We go to sea to collect animals and do lab work to extract and sequence their DNA. I also do lots of statistics and writing. My job is super rewarding. I always feel like I am doing a very good thing!
---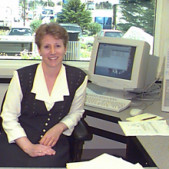 Karen Lash
Accounting Operations Supervisor
What are your primary responsibilities as an Accounting Operations Manager?
I'm responsible for supervising the daily operations of payroll, purchasing, accounts payable, accounts receivable, and shipping/receiving. I'm also responsible for the accounting software and the information in the accounting databases. I often recommend, implement, and troubleshoot accounting software solutions and develop specialized reports in analyzing financial data.
How and when did you become interested in your field?
I became interested in accounting during college when I took my first accounting class. I liked the organization and how the accounting data could be analyzed to make business decisions.
What did you do to prepare for your position?
I received my B.A. in accounting and, after graduating, obtained my CPA license. The education I received was invaluable, however, working as an auditor gave me a taste of real world accounting and its diversity.
What drew you to MBARI?
MBARI is a forward thinking organization, and the opportunity to be a part of that was too hard to pass up. MBARI embraces new technology and software, even in accounting, and I've been fortunate to participate in and implement many process improvements.
Did you have an interest in Ocean Sciences before working at MBARI?
The ocean has always been very mysterious to me. Working at MBARI has only increased my sense of wonder and appreciation for the ocean and those who study it.
What is your favorite part of the job? 
The most rewarding part of my job is working with people to make the accounting process and paperwork easier for everyone.
---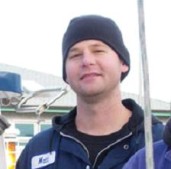 Matt Noyes
Chief Engineer, R/V Western Flyer
What are the primary responsibilities of Bosun/Engineer on the R/V Zephyr?
As Engineer, I ensured the day-to-day functionality of the ship's systems. The reliability of electrical, hydraulic, generators, main engines, and various other components is necessary to perform on a daily basis. This enables the vessel to meet the demands of our missions and the seas.
The Bosun aspect of this job requires working topside on deck. The Zephyr deploys and recovers Autonomous Underwater Vehicles (AUVs) and many different types of moorings which either float in the water column or sink to the bottom. The different physical arrangements of the moorings themselves and the necessary gear to deploy and recover these items safely, requires the Bosun and ship's crew to establish the best way to secure these items to the vessel, pick the gear up and put it over the side, how to release the instruments, and if more than one component is involved, in what order. All of these steps are done with priority given to crew safety and instrument integrity. Other areas of responsibility are boat cleanliness and boat safety.
How did you become interested, and what did you do to prepare yourself for a career in the marine science and maritime industry?
I have always had a fascination with the ocean. Growing up my parents would take us camping along the ocean's coastline and I found myself looking forward to that event every year, to see and hike along the water and poke around in the tide pools. After high school I went to the University of California, Santa Cruz and received a degree in Marine Biology. Instead of following up with a Masters, I decided to attend the California Maritime Academy. This state college provides students with working knowledge of either the engine department or the deck department of ships. Three years later I graduated with a Bachelor of Science in Marine Engineering Technology and a 3rd Assistant Engineer Unlimited Horsepower license, allowing me to work the big cargo tankers and other ships people see coming in and out of ports.
What do you like best about your job?
What I like best about my job is the environment in which I work, the whole package. The people I work with have so much personality, knowledge, and technique to do their jobs well and professionally. The everyday challenges of solving problems and incorporating new systems on the vessels I work on polishes one's abilities. But most of all, being able to work on the water on a day-to-day basis with an organization such as MBARI, that incorporates cutting edge science and cutting edge technology to solve the infinite number of questions asked of our oceans, is truly a dream come true for me.
---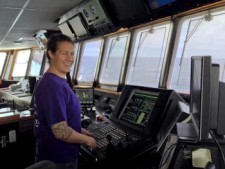 Miriam Anthony
Second Mate, R/V Western Flyer
What is your role as second mate of the Western Flyer?
I have three main responsibilities on the Flyer: watch standing, voyage planning, and mission-specific operations.
As a watch stander, I ensure safe navigation of the vessel for eight hours a day. This can include babysitting our dynamic positioning computer, or driving the boat and avoiding traffic or hazards to navigation—or whales! I like standing watch; it's dynamic and always different. I enjoy talking to other ships and seeing what the scientists are digging up on the bottom. As second mate on the Flyer, I'm responsible for voyage planning. The scientists tell us where they want to go and I plot our track on the chart and program the electronic navigation instruments in the wheelhouse. Vessel operations vary. Sometimes I'm doing safety inspections; sometimes I'm operating the crane or painting a bulkhead. I am also the medical officer and the vessel security officer. So if a pirate boards the ship and gets a stomach ache, I can patch him up and handcuff him to the bilge!
Describe your typical day at work.
If we are at sea, I start watch at midnight and Deckhand Olin Jordan and I chat in the dark and solve all the world's problems while driving the boat to the next dive site. At 4:00 a.m. I take a little nap. At 8:00 a.m. we have coffee and overtime begins. I might do a safety inspection or assist the scientists in recovering an instrument. At noon I am on watch in the wheelhouse again until 4:00 p.m. Then I should go to bed, but I usually send emails, work out, or read. Then I sleep for a few hours and get up at midnight and do it all again!
What is your favorite aspect of your position?
Oh man, I have two favorites! I love the science. It's so cool that I can just ask anybody at MBARI, "What is that crazy critter?" and I get the most fascinating (and accurate) answers! I like to geek out on science so even though I am not a scientist, I really enjoy exploring and learning. Every trip is different and every science group brings something fascinating to the surface. I also love the people. Never have I worked with a cooler, nicer crew. Everyone on the Flyer is really supportive and positive. It makes for a much different working environment than what I had on cargo ships! People actually WANT to be here and enjoy their jobs. It's so very refreshing.
What is the most challenging aspect?
I think people believe being a female officer is hard but it's really not! Being away from family and friends is most challenging for me. I'm a people person, so I get lonely in Moss Landing! I have a boyfriend who works on a ship too and we are always apart ("awww").
How do you prepare for a long trip at sea?
If I'll have a roommate, I must clean my room! Then I do a voyage plan, get the charts ready, print out a weather report, make a crew and science party manifest, help load science cargo, and bug Patrick Mitts (steward/deckhand) to get me almond milk so I don't drive Olin out of the wheelhouse.
Have you always wanted to work on a ship?
Nope! I've always liked being on the water. When I was a little kid I wanted to be a marine biologist! Although I wasn't so strong in chemistry. I had a wild imagination so I first went to college for writing, where I realized I wasn't the only kid with marginal writing skills. Then, I decided I liked maritime history (especially pirates) so I was studying to be a history teacher and write books about pirates. When I went shopping for a sailboat to live on in Southern California, I met a pirate. He told me about the maritime academy… and the rest is history.
---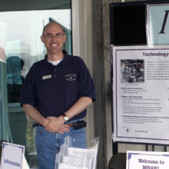 Todd Ruston
Information Systems Supervisor
What are your primary responsibilities as Information Systems Supervisor?
I am responsible for the overall effectiveness of the Information Systems Group, which is a team of system administrators and technicians that selects, implements, and supports the Institute's information technology infrastructure backbone (computers, networks, data storage, databases, backups, email systems, etc.). In other words, we make sure the computers, networks, and related systems MBARI staff use to do their jobs and perform their research are capable of doing the tasks they require. As supervisor of the IS group, I am tasked with understanding the institute's information technology needs, making technology choices and decisions to meet those needs, and guiding the IS group in the fulfillment of those needs.
Translating that into day-to-day activities, I consult with MBARI staff on the computing needs for their projects and forecast future needs, research new technologies that may be applicable at MBARI, work with the IS team to plan and schedule upgrades and new deployments, help IS group members with challenging implementations or problem solving, set and manage the IS budget, troubleshoot and repair system problems, and do anything and everything else that may need to be done to make sure our systems run smoothly and the institute is able to function.
How and when did you become interested in your field?
My first exposure to computers was in intermediate school, as the personal computer revolution was just beginning at the time. My sixth grade science teacher was a computer enthusiast, and brought in his own personal Altair 8800 and TRS-80 Model I computers to teach an extracurricular class on BASIC programming. The idea of telling a machine what to do and seeing it do it was fascinating, and I was hooked immediately. Later my uncle gave my brother and me a tricked out TRS-80 Model I (64K of RAM and 5.25″ floppy drive!), which let me tinker at home and set me down the path that eventually led here. Later experience doing computer consulting work during summers in college laid the groundwork for making I.T. a career.
What did you do to prepare for your position?
To excel in a position like mine at a place like MBARI requires a broad mix of skills and knowledge. Not only does one need a solid understanding of an array of computing and networking concepts, but familiarity with science and engineering methods and concepts is a huge plus for assessing scientific and engineering system requirements and designing solutions to meet those needs. In addition, the ability to communicate sophisticated concepts clearly, both verbally and especially in written form, is vital to success in this position. So a strong liberal arts education (with emphasis on science and mathematics), along with training or coursework in computing and networking concepts, is the basis of preparation for this kind of job. Understand also that the field is constantly evolving, and keeping up with developments will be a lifelong effort.
My path to this position was somewhat circuitous and resulted in me being well suited to the job, but I did not deliberately plan it this way. Aside from my interest in computers, I also enjoyed and excelled in the sciences and mathematics, and did very well in writing courses. Believe it or not I took very few computer classes in high school and college, but lots of higher math, chemistry, physics, and biology. Most of my computer and networking knowledge is self-taught, through reading and hands-on experimentation and experience. Entering college I wasn't really sure what I wanted to do career-wise, but I majored in molecular biology, and worked summers at a computer consulting company that built custom accounting systems on Unix machines. After graduation I decided not to pursue molecular biology further (i.e. get a PhD), but instead went to work full time at the consulting company. The work there exposed me to many different kinds of businesses and computer systems, and led to an I.T. job at a publishing company. There I learned about networking concepts, telephony, and desktop publishing, and eventually became I.T. Director. When I learned of the opening for this position at MBARI (through random happenstance and luck), where I could marry my I.T. career with my interests in science and the oceans, I jumped at the opportunity.
What drew you to MBARI?
I'm slightly embarrassed to say I had not heard of MBARI before seeing a newspaper advertisement for the position I hold now. Serendipity was on my side, as I wasn't even looking for a new job, but was just checking that an ad for an opening in my department at the publishing company had run correctly. The MBARI ad was on the facing page with the logo making a prominent visual impression. I was smitten reading the advertisement for the job, as the opportunity to work at the forefront of deep ocean exploration and research, with a diverse mix of technologies and exposure to multiple fields of study, was tremendously alluring.
Did you have an interest in Ocean Sciences before working at MBARI?
Absolutely; the ocean (and lakes/rivers) and the critters therein were a passion of mine even before computers, starting with a trip to the tide pools in early elementary school. I kept aquaria at home and obsessively learned about fishes of all kinds, took every ocean-related extracurricular class possible in elementary and intermediate school, learned to SCUBA dive, and took an ichthyology class in college. I even considered majoring in marine biology, but naively discounted that idea, thinking I wouldn't be able to make a living in that field. I feel tremendously lucky to be working at MBARI now, where all my interests have come together.
What is your favorite part of the job?
I can't pick just one thing. It's very satisfying when I've helped make someone else's job easier (or possible) with a solution we've put together. Supporting a non-profit institution making a difference in the understanding of the oceans is tremendously fulfilling. The computer and network infrastructure here is complex, varied, and always evolving, providing intellectual challenge and constant learning opportunities. Seeing new ocean discoveries and amazing images of unusual and beautiful deep sea organisms as they're made is awe inspiring. Collaborating with brilliant and engaging colleagues on things that have never been done before is exciting and energizing. And the location is wonderful; the surf and wildlife just outside our walls provide an office view that can't be beat!
---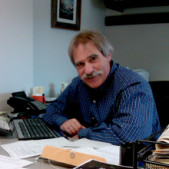 Norm Steinberg
Director of Human Resources
How and when did you first become interested in human resources?
I was working at a facility for disabled adults. My duty there was to help find the clients jobs outside of the facility. In this position I gained experience working with and interacting with a wide variety of people. I discovered that I enjoyed this type of work and that these skills transferred nicely into a career in human resources.
What did you do to prepare for your position?
I went to college and attained a Bachelor of Arts degree in Political Science, and then went on to get my Masters Degree in Business Administration. In addition to my college courses, I worked for several years as a counselor for mentally and physically abused children and adults.
What drew you to MBARI?
I moved to coastal California and knowing that MBARI was a David and Lucile Packard Foundation institution made me very interested in working here.
Did you have an interest in Ocean Sciences before working at MBARI?
Yes, but not from a technical standpoint. I've always liked the ocean and the critters in it, so having the opportunity to work here is just ideal.
What is your favorite part of the job?
The people I work with. I enjoy working with good people who have very diverse backgrounds and interests.
---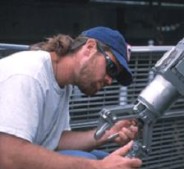 Mark Talkovic
Senior ROV Pilot, ROV Doc Ricketts
What are your primary responsibilities as a Chief ROV pilot?
Supervise and assist with the operation and science conducted with the ROV Doc Ricketts. This includes not only flying the vehicle and running the robotic arms, but making sure all the mechanical, hydraulic, and electrical systems are functioning properly. Designing and constructing new science tools is also an important part of the job.
How and when did you become interested in marine science and technology?
As a kid, I watched every Jacques Cousteau special on TV. Those shows started a lifelong addiction and passion for marine science and ocean exploration.
What did you do to prepare yourself for a career in marine science and technology?
I finished college at University of California, Santa Barbara with a degree in Marine Biology. I got heavily involved in research diving projects in locations like California, Hawaii, the Caribbean, and Antarctica. Two seasons as a scientist in Antarctica led to work as a marine technician aboard research ice breakers for six years. That experience, along with shipboard work on tall ships, the ALVIN submarine, a smattering of other small boats, and remote field stations allowed me to build a very diverse set of skills. I started at MBARI taking care of the science sampling gear on the ROVs and moved into piloting a couple years afterwards.
What do you like best about your job?
The ever changing nature of the work, the challenge of pushing the technological bounds of deep-sea science and getting to explore parts of the world that very few, very lucky people get to see.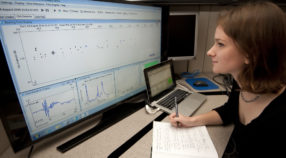 Potential intern projects and mentors for 2023. This list may be updated so do check it prior to completing your application. Please DO NOT contact the mentors directly.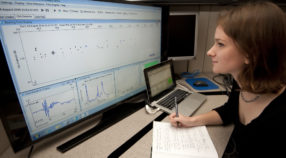 Potential intern projects and mentors for 2021. This list may be updated so do check it prior to completing your application. Please DO NOT contact the mentors directly.