University Corporation for Atmospheric Research and
NOAA Pacific Marine Environmental Laboratory
New Approaches to study the marine carbon cycle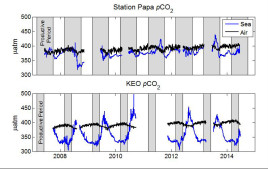 Wednesday, October 21, 2015
Pacific Forum—11:00 a.m.
Seven years of carbon dioxide (CO2) observations from the Kuroshio Extension Observatory (KEO) and Ocean Station Papa (OSP) moorings located in the North Pacific Ocean are used to evaluate drivers of the uptake and export of CO2. Annual organic carbon export at OSP is approximately half that at KEO; however, the timing of biological productivity at OSP makes it significantly more influential on the air-sea CO2 flux. Differentiating the thermodynamic and biogeochemical controls on ocean carbon uptake makes it possible to more confidently project the impacts of ocean warming and acidification on ocean carbon storage in these regions. This budget analysis relies on in situ measurements of CO2 coupled with salinity-based estimates of total alkalinity. Endeavoring to fully constrain the carbonate system directly and in situ, we have developed a new dissolved inorganic carbon analyzer for extended autonomous observations. Results from two field deployments will be shared.