University of California, Santa Cruz
Puma energetics, behavior, and ecology in a landscape of fear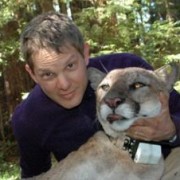 Wednesday, November 18, 2015
Pacific Forum—11:00 a.m.
Much of California is mountain lion habitat and many thousands of people recreate in mountain lion country each day without incident. Fear of these top predators is understandable if one were to encounter a mountain lion. How does that fear change our decisions and behavior at that time? I am more interested in researching what effect humans have on mountain lion behavior. Our research focus is to better understand mountain lion behavior, energetics, and ecology. I will present insights into how pumas affect prey numbers, scavengers, and plants as well as locations that we might think about preserving as open space or places to encourage the safe movement of wildlife. I will discuss these and other aspects of mountain lion biology that we are discovering in our local Santa Cruz Mountains; but don't fear, I promise to not make it scary.
Next: November 19—Joe Needoba