August 18, 2013
We were all set this morning to dive on a steep cone far up the north rift zone of Axial Volcano, but a hydraulic pump failure on the remotely operated vehicle's (ROV) launch crane precluded our dive. So we set off eastward at eight knots for Newport, Oregon, which will be our port for the end of this leg of the expedition. It was a lovely day to spend a little time on deck and catch up on post-dive work in the lab. François will now tell you about his newly designed piston cores that we used for the first time yesterday.
— Jenny Paduan
As we explained in a recent log, the sediment at Axial is particularly difficult to sample because of its unusual texture. Dave Clague asked me to join this cruise so that I could observe his coring method and possibly come up with a better solution. During the first half of the cruise, I made observations and experimented with several minor changes to Dave's method. We also experimented with the vibracore and found that it was not effective, so we removed it from the ROV. Our experimentation with the push cores was not very successful either, as none of our modifications seemed to make a significant difference. I did some research and read about a method commonly used in submarine coring: piston cores.
Piston corers are usually lowered from the side of a ship and use heavy weights to drive the core into the sediment. I decided to adapt this method so that we could use it with the ROV (see photos and diagram below). Thanks to the help of the ship's crew, I was able to gather all the necessary parts to build two piston corers. Being on a ship, I didn't have access to a machine shop or wide array of materials, so I had to be creative; there was much glueing, sawing, and grinding involved to make the parts fit and hold together.
We tested the piston cores at the end of yesterday's dive on Axial. The first piston core performed much better than the regular push core; the surface of the sediment was well preserved and the penetration was greater. Dave was very satisfied that we finally had found an improvement to his method. Over the last few days, I have been designing a proper piston corer using three-dimension modeling on my computer (see diagram), and I ordered the parts from MBARI's machine shop. The parts will be shipped to Dave in Newport so that he can use the piston corer during the second leg of the cruise.
Diagram and explanation of the new piston corer that François designed and built on this trip. Click on diagram to see in more detail.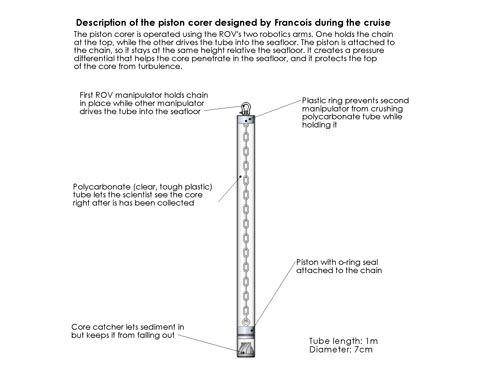 — François Cazenave
As we head to shore from the first of two Clague Axial 2013 legs, I've been going over in my mind all the dives we conducted, and all the rock sampling we accomplished using the "waxensmasher" (a.k.a. the wax-tipped corer). We came to learn more about the volcanic history of Axial Seamount and succeeded in this goal on each dive. Our final dive in particular, which explored a portion of the 2011 eruption that occurred above and outside of the Axial caldera, taught us several important things about the interaction of lava and highly sedimented underlying terrain, with more still to learn after shore-based analyses are completed. I would like to express my thanks to Dave, Jenny, Linda, the Western Flyer crew, the Doc Ricketts team, and MBARI for a wonderful week at Axial Volcano.
— Ken Rubin