New report highlights role of coastal areas in the American economy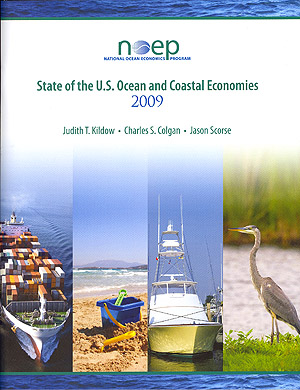 A new report by the National Ocean Economics Program (NOEP) highlights the enormous overall value of our nation's coastal areas and the critical role the oceans play in America's economic health and well being. The report also shows that coastal areas, which have been hit hard by the recession, also face future risks due to climate change, ocean acidification, and sea-level rise.
MBARI researcher and NOEP Director, Judith Kildow, co-authored the State of the US Ocean and Coastal Economies 2009 report. The release of the report during Capitol Hill Ocean Week was co-sponsored by the National Marine Sanctuary Foundation.
To produce the report, NOEP tracked economic activities, demographics, natural resource production, non-market values, and federal expenditures in the US coastal zone over a ten-year period. NOEP has also made this information available to the public in an on-line interactive database.
Counties that border the oceans and Great Lakes make up 18% of the land area of the US, yet they accounted for 36% of the population and 42% of the national economic output in 2007. Report findings such as these increase public awareness of the value of the coasts and oceans.
Such awareness is especially important in a time of recession and growing risks from climate change. As Kildow points out, "Our nation's economic recovery and stability depends on how we deal with the issue of climate change and what we do to protect valuable natural assets that serve to support the people and communities that live along our ocean and coastal areas as well as the entire nation."
The National Ocean Economics Program (NOEP) compiles economic and socioeconomic information for states and coastal communities across the United States. They have been a research group at MBARI since 2007. The program is supported by the Coastal Services Center of National Oceanic and Atmospheric Administration (NOAA) and by other federal, state, university, and private grants and contracts. Visit NOEP at www.oceaneconomics.org.
The National Marine Sanctuary Foundation, is the private, non-profit partner to NOAA's Office of National Marine Sanctuaries. For more information, visit www.nmsfocean.org.
For additional information or images relating to this article, please contact: Kim Fulton-Bennett
831-775-1835, kfb@mbari.org