New report describes pressing ocean issues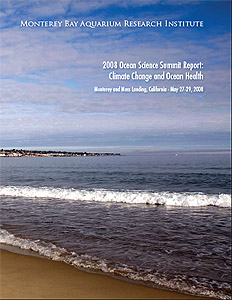 In May 2008, over one hundred scientists and decision makers gathered in Monterey to discuss some of the most pressing issues facing the oceans. This two-day conference, the 2008 Ocean Science Summit, generated much discussion about how to provide legislators and other decision-makers with the scientific facts that they need to formulate useful ocean policy. This conference was organized by MBARI researcher Judith Kildow and sponsored by MBARI, in collaboration with the American Association for the Advancement of Science, the California Council on Science and Technology, and the U.S. National Marine Sanctuary Program.
The key issues, discussions, and proposals for future actions from this conference are summarized in a new report, 2008 Ocean Science Summit Report: Climate Change and Ocean Health. This report is available online in PDF format.