2017 Summer Intern Profile: Nathaniel Yee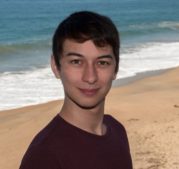 Name: Nathaniel Yee
Project/Mentor: Automated detection and classification of deep-sea imagery with Danelle Cline and Duane Edgington
School: Franklin W. Olin College of Engineering
Hometown: Alameda, California
Tell us about your project: My project is centered around automated detection and classification of deep-sea imagery. Put simply, if you give a computer an image, we want it to be able to locate where and what the animals are. This type of technology is valuable as it would allow MBARI to automate oceanographic surveying given enough cameras in the water. To accomplish this task, we are using a machine learning technique known as deep learning. This technique is a data-driven approach that is highly effective at solving computer vision tasks. Throughout my project, I am both curating a set of nicely annotated images and using them to teach computers how to solve the particular problem of detecting and classifying animals.
Why did you want to intern for MBARI: When I was in middle school, I learned to love and appreciate the ocean through the Monterey Bay Aquarium's Student Oceanography Club. When I learned that MBARI was applying machine learning to solve various problems, I saw it as an opportunity to learn more about real-world data science and to contribute to exploration in oceanographic research.
What's been your favorite part of MBARI so far: Some of the highlights include: seeing mini beta versions of my project actually work, meeting a bunch of interesting individuals, listening to people present super interesting work, and making friends with my fellow interns. I've also had the opportunity and time to revise how I work with and manipulate data, as well as had access to more GPU computing than I've ever had before.
And, if you had a boat, what would you name it? "This yacht, my bigger yacht, or my submarine"
As in, "Hey guys, do you want to go out on This yacht, my bigger yacht, or my submarine?"
Meet the rest of MBARI's 2017 Summer Interns