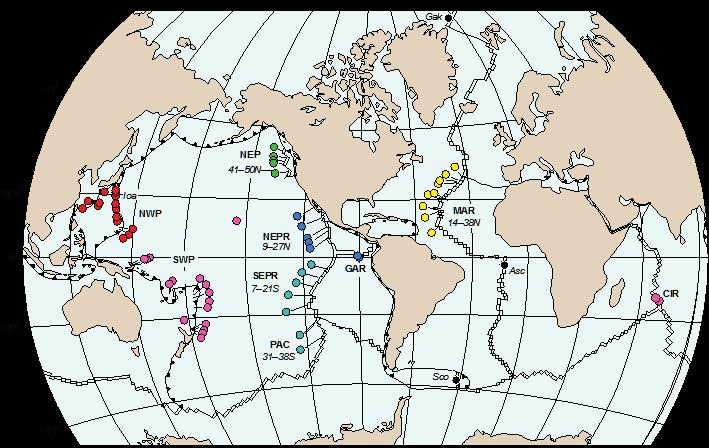 Worldwide expeditions led by Bob Vrijenhoek and his colleagues have resulted in the discovery of many new species of deep-sea crabs, clams, mussels, snails, tubeworms and bacteria. Understanding the evolutionary relationships among deep-sea species and placing them in the tree-of-life has been a major goal of research efforts.
Publications
Maas, Paula A.Y.
,
O'Mullan, Gregory D.
,
Lutz, Richard A.
,
Vrijenhoek, Robert C.
, (1999).
Genetic and morphometric characterization of mussels (Bivalvia: Mytilidae) from Mid-Atlantic hydrothermal vents
.
Biological Bulletin
,
196
: 265-272.
http://dx.doi.org/10.2307/1542951
Peek, Andrew S.
,
Gaut, Brandon S.
,
Feldman, Robert A.
,
Barry, James P.
,
Kochevar, Randall E.
,
Lutz, Richard A.
,
Vrijenhoek, Robert C.
, (2000).
Neutral and nonneutral mitochondrial genetic variation in deep sea clams from the family Vesicomyidae
.
Journal of Molecular Evolution
,
50
: 141-153.
Full publications list