October 27, 2012
It's the last day of our week-long dive series. Yesterday, strong winds forced us to end our dive with the remotely operated vehicle (ROV) Doc Ricketts a couple hours early, so we were a bit concerned about how much we could get done today. The wind calmed down overnight and the day dawned beautifully sunny with only a light breeze—a perfect day for two ROV dives!
We began the day as we often do, by asking the ROV pilots for a special, last-minute piece of equipment not on the dive plan. They love it when we do that, so we try to accommodate them at least once a dive series. Actually, this request was not too out of line, and, in no time, Marko Talkovic built the best "spatulator" we could have hoped for.
Our colleagues from the Monterey Bay Aquarium are perpetually on the lookout for cephalopods, and this includes benthic species. So when we first came upon the octopus Graneledone boreopacifica, the spatulator was used to gently lift, then nudge the animal up in the water column, where the pilots attempted to position it into one of our detritus samplers. No luck. A little too large and a little too mobile, the octopus strolled across the top of our samplers and drifted back to her rock on the bottom.
Sometimes we sit for hours staring at marine snow as the ROV slips through water seemingly devoid of life. Other times, things happen fast. At about 600 meters (2,000 feet), over the 1,500-meters-deep (4,920-feet-deep) bottom, we were back in our element. Nancy Burnett was really put to task operating the suction sampler, recording data, and making annotations as the pilots quickly captured two different species of squid: Octopoteuthis deletron and Chiroteuthis calyx. The pilots then followed that up with collections of the shrimp Sergestes similis for ongoing respiration studies. The Octopoteuthis was collected in a sampler that Alicia Bitondo and Chris Payne from the Monterey Bay Aquarium had stayed up late to modify so that it would block light, hopefully stressing the animal less. Not wanting the squid to remain too long in their samplers, we ended dive one.
With the ROV on deck, we hastened to take care of our samples, putting them in special aquaria designed for animals who aren't used to walls. Before going in for our second dive, I had time to glance at email. Back at home our families and friends are putting on costumes and getting ready for Halloween parties.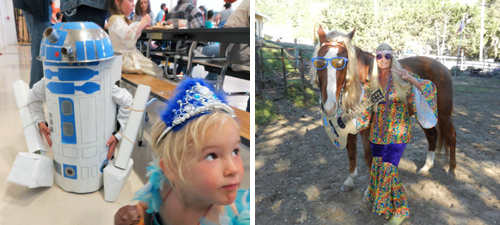 And it struck me that, while not exactly in costumes, mesopelagic animals have evolved crazier getups than most of us ever dream of: Octopoteuthis deletron has bioluminescent arm-tips that twinkle with light; Chiroteuthis calyx, the swordtail squid, is dressed up to look a lot like the very common, but unpalatable (at least to predators of squid) siphonophore, Nanomia bijuga.
Other critters, like the medusa Aegina are not what they seem. They scoot through the water, arms over their bells looking like innocuous, little, white turnips. Yet, lion-like, they prey on much larger lobate ctenophores, five or more times their size.
—Rob Sherlock