October 22, 2012
Monday morning started out with rough weather as we got onto station and experienced wind gusts to 30 knots (34.5 mph). That was too rough for safe remotely operated vehicle (ROV) operations, so we waited until the winds settled a bit. We did have our fire and boat drill and got three of our science crew to practice getting into their survival suits in under a minute!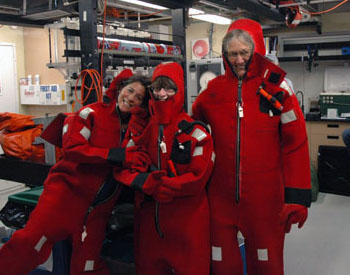 The winds finally died down and we were able to launch the ROV and start our dive shortly after lunch. Even with a short dive time, we were able to accomplish our goals for the day: completing a series of transects that are part of a long, time-series study of the midwater region of Monterey Bay. We also gathered some data comparing different cameras and different lights—these data will be used to help us transition to using autonomous vehicles for conducting these transects. We finished the dive by taking a look at one of our favorite sites—not in the midwater, but a rock sitting at just under 1,400 meters (4,600 feet) of water. We looked for and found Graneledone on this rock—no brooding females, but still good to see that this rock is still a popular hotspot for these benthic octopuses. As we recovered the vehicle, the sun was setting and you can see how quickly the seas calmed down for us.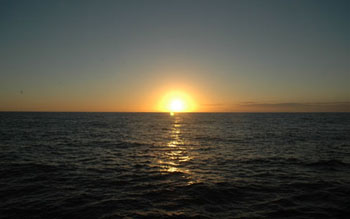 The day might have been over, but the science continued on into the night. Henk-Jan Hoving set up the trawl net and we made a short trawl collecting a variety of squids, fishes, and jellies—animals that will keep the science crew working well into the night. Henk-Jan readied his camera for deployment—we launched the camera before midnight and will leave it in the water until morning, recovering the camera before starting our ROV dive at 6:30 a.m. It's been a great start to the week—stay tuned for more discoveries.
—George Matsumoto