July 14, 2012
This morning at 6:30 a.m. the remotely operated vehicle (ROV) started its dive all the way down to the seafloor at a depth of 2,850 meters (9,350 feet). The ROV reached the bottom at 10:00 a.m. and spent an hour flying about a meter above the bottom searching for animals that live in the benthic boundary layer. These are animals that live in the water column just above the bottom, but not on the seafloor.
The ROV is connected to the ship with a tether, and the pilots need to manage the tether, which becomes even more difficult the deeper the vehicle goes. There are currents that can affect the ROV, the tether, and the ship, so the pilots and crew on the bridge must communicate constantly in order to make sure that the ROV can move around as freely as possible without getting tugged up by the tether. To do so the ROV pilot communicates with the bridge and indicates the heading and speed they want the ship to be moving. Moreover, the ROV can rotate horizontally by 360 degrees, but if it rotates always in the same direction, the tether will get twisted and possibly damaged. One of the roles of the co-pilot is to make sure that the ROV rotates as much in one direction as in the other.
During the dive we collected many different animals such as ctenophores, amphipods, squids, and worms. We spent a couple of hours slowly flying up and down between 530 and 800 meters (1,700 and 2,600 feet) looking for vampire squids, but, again, we didn't find one. We did however find the squid, Chiroteuthis calyx and collected it. Our postdoc, Henk-Jan Hoving, and Monterey Bay Aquarium aquarist, Bret Grasse, are working to keep deep-sea squids alive in the lab, which has not been done before for most deep-sea species.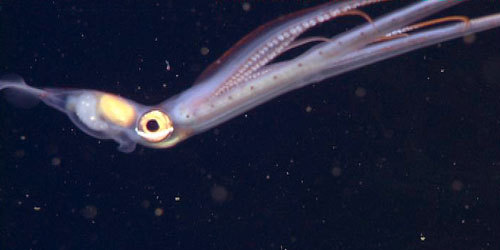 We also observed a variety of interesting deep-sea animals, such as this beautiful ctenophore, Aulacoctena, which was about 30 centimeters (one foot) long!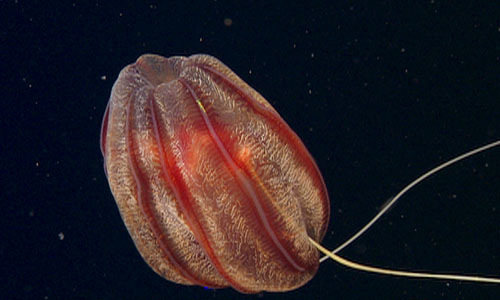 The ROV was on deck by 6:30 p.m., and much of the science team then spent hours processing the samples. Also, the pilots spent time getting the ROV ready for tomorrow's dive. We also launched a trawl net that will be pulled through the water from a depth of 500 meters (1,640 feet) up to 100 meters (325 feet). At 100 meters, we send a messenger which goes down the line to trigger the net's closing mechanism. Our target animals for the trawl are amphipods, pteropods, and fishes. By 9:30 p.m. the trawl will be recovered. Tomorrow we will let you know what we collected!
—Geraldine Fauville