Diurnal rhythms in phytoplankton physiology and marine snow export observed from a Wirewalker autonomous platform
Melissa Omand
University of Rhode Island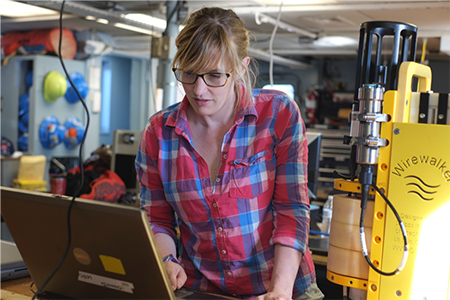 Monday, April 2, 2018
Pacific Forum—11:00 a.m.
Rapid wave-powered profiling of bio-optical properties from an autonomous Wirewalker platform reveals a high variability (minutes to days) in phytoplankton physiological rates. Highly resolved diel cycles in beam attenuation (a proxy for particulate organic carbon) allow detailed quantification of phytoplankton growth and losses throughout the water column, and for the first time the autonomous in situ estimation of a photosynthesis-irradiance curve. Coincident variations in the phytoplankton community were quantified with imaging and microscope tools made from ship-board measurements. Photos (taken every 20 minutes) of marine snow particles that settled into a sediment trap mounted below the Wirewalker suggested little diel variation in total flux, but did indicate the presence of migrating copepods. These results benefited from the deep mixed layer and relatively spatially homogeneous waters of the North Pacific Subtropical Gyre. The applicability of this method to other locations and observational tools such as floats and gliders will be discussed.
Next: Robert Dudley