2017 Summer Intern Profile: Megan Bassett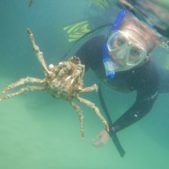 Name: Megan Bassett
Project/Mentor: Describing a new species of pteropod with Stephanie Bush
School: Graduated from California State University, Monterey Bay with MS in 2015
Hometown: Wildomar, California 
Tell us about your project: This summer Stephanie and I are working on describing a new species of pteropod, a type of free-swimming sea snail and sea slug. My portion of the larger species description is completing all of the genetic sequencing. I'm sequencing tissue samples collected from the undescribed pteropod as well as samples of known pteropod species to (hopefully) show that the undescribed species is in-fact new. I'm learning a lot about genetic techniques! I'm also working with George Matsumoto on the EARTH workshops. I enjoy working at the interface of science and outreach/education and am excited to learn about other organizations that do this type of work.
Why did you want to intern for MBARI: My background is in marine research and after graduating with my master's I started working in outreach and education. I've enjoyed working in the outreach and education world for the past couple of years, but started to miss doing research of my own. MBARI is one of only a few opportunities that are open to professionals as well as students. I've also always wanted to come and see what it was like to work at MBARI! So far, it's amazing!
What's been your favorite part of MBARI so far:  My favorite part of MBARI, so far, has been all of the great people I've met. Everyone has been so welcoming and helpful. I'm looking forward to diving deeper into my project and learning more about genetics and pteropods.
And, if you had a boat, what would you name it? R/V Mola – because Mola molas are my favorite fish.
Meet the rest of MBARI's 2017 Summer Interns