Fall 2019
Andrea participated in the OceanObs'19 conference in Honolulu, Hawaii from September 15 to 20. She presented a poster led by former MBARI postdoc William Haskell describing carbon export estimates derived from ~10 years of biogeochemical profiling float observations collected near Ocean Station Papa.
Andrea participated in the CMIP6 Hackathon at NCAR from October 16 to 18. The group collaborating on ocean biogeochemistry recently published a Pangeo Binder outlining some of the useful new Python tools for CMIP data access and analysis.
Andrea joined Jupiter Research Foundation's Scientific Advisory Board for an upcoming project that will deploy autonomous surface vehicles to study air-sea CO2 fluxes.
Andrea visited Scripps on December 2 to meet with students and faculty and present some new work as part of the Geoscience/Marine Chemistry & Geochemistry Seminar Series.
A paper led by recent McGill University PhD Graduate Olivier Sulpis entitled Decreasing bottom-current speeds and seafloor CaCO3 dissolution under a business-as-usual scenario was published in Global Biogeochemical Cycles.
Former MBARI postdoc William Haskell helped out with inorganic carbon sampling and the deployment of an ISUS nitrate sensor (provided by Ken Johnson's Lab) on the CTD rosette during a coastal research cruise led by Alyson Santoro (UCSB) from December 12 to 19.
Andrea was awarded a US CLIVAR Early Career Scientist Leadership Award at AGU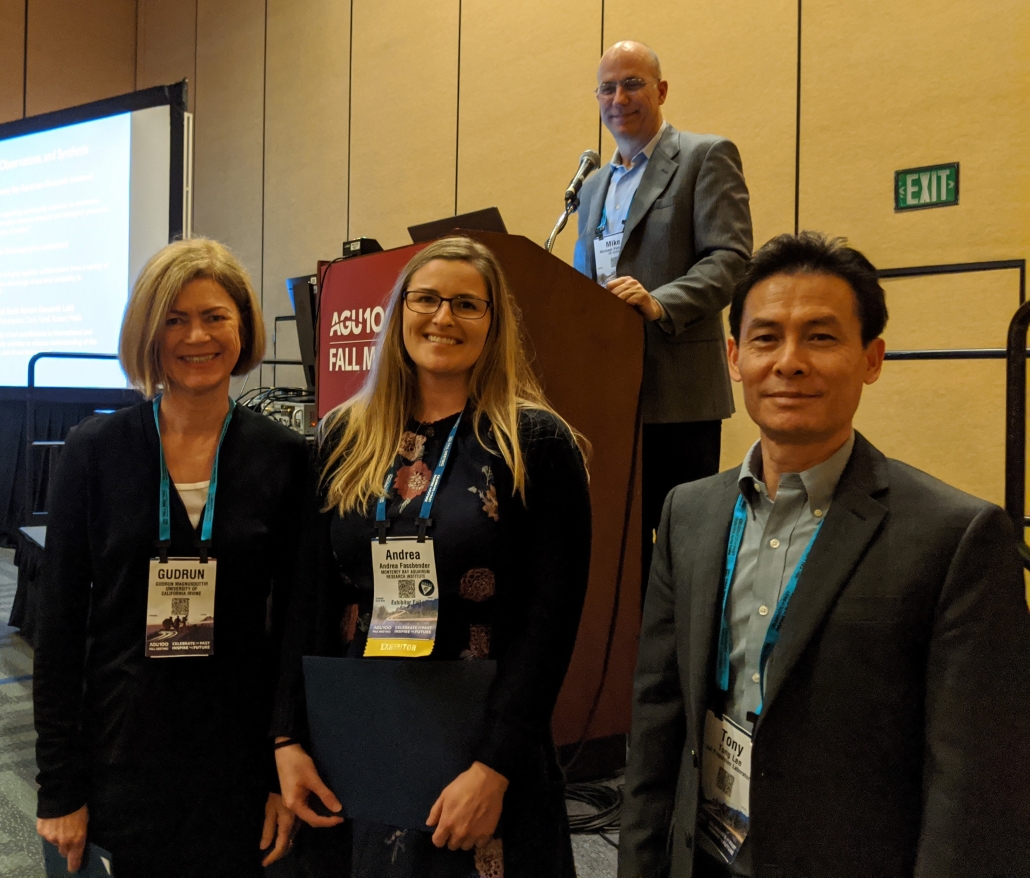 Summer 2019
June 24 – 27
Andrea Fassbender led a session at the Ocean Carbon Biogeochemistry (OCB) Summer Workshop in Woods Hole entitled "Calcification and The Carbon Cycle". We are now seeing changes in marine carbonate chemistry due to rising ocean anthropogenic carbon concentrations; something anticipated to affect many calcifying marine species. However, exactly which carbonate system parameters are most important in the calcification process and how changes in calcium carbonate export might influence ocean alkalinity are areas of active discussions in the community. This session brought together speakers from GEOMAR/IMAS Hobart, Dalhousie, WHOI, NCAR, and OSU to engage in conversation about their cutting edge research illuminating drivers and impacts of marine calcification.
Jacki Long also participated in the OCB summer workshop, presenting observational climatological context for the NASA/NSF EXPORTS August 2018 field campaign using satellite, float, and mooring data.
June 2 – 18
William Haskell participated in the June 2019 Canadian Line P cruise aboard the CCGS Tully to collect observations supporting our NSF funded biogeochemical float work associated with the North Pacific NASA EXPORTS field campaign. While aboard, William collected samples for DIC, TA, and pH, and operated an underway pH-nitrate system (provided by Yui Takeshita), all of which will add to our understanding of seasonal and interannual variability in the eastern subarctic Pacific Ocean.
July 23 – 29
Jacki Long participated in the Central California Carbon, pH, and Oxygen cruise conducted by Chief Sci. Yui Takeshita.  Every year, seasonal winds cause upwelling of deep Pacific waters along the California coast. Such upwelled waters with low pH and oxygen concentrations can influence local commercial and recreational marine activities in California, making this region a "hot spot" for ocean acidification. The objectives of the cruise were focused on gathering data to add to the current time series of ocean acidification measurements in the region, and also develop robust calibration protocols for autonomous vehicles, which continue to gather ocean acidification data at higher temporal and spatial frequencies than humans can achieve with discrete sampling.
August 21
Andrea Fassbender visited Lawrence Livermore National Lab to meet with scientists in the climate modeling division and give a seminar on ocean carbon cycle processes.
August 19 – 23
William Haskell attended the Goldschmidt Conference in Barcelona and presented a poster entitled, A Decade of Net Community Production in the North Pacific from Biogeochemical Profiling Floats.
August 26 – 29

Andrea Fassbender traveled to Scripps to attend and present a talk at the Chapman Conference on Understanding Carbon Climate Feedbacks.
Spring 2019
On May 23, we took a field trip to Saildrone to check out their facilities and learn more about autonomous surface vehicle applications.
Spring 2019
On May 23, we took a field trip to Saildrone to check out their facilities and learn more about autonomous surface vehicle applications.
Winter 2019
On January 30, a Saildrone equipped with NOAA PMEL CO2 instrumentation set off for the Gulf Stream as part of a project lead by Jaime Palter at URI to study air-sea heat and carbon fluxes in western boundary currents during winter.
A short feature article on biogeochemistry at the ocean meso and submesoscales is now published in Eos  here.
A paper stemming from the 2018 NOAA Ocean Acidification PI meeting has been accepted for publication: Carter, B.R., Williams, N.L., Evans, W., Fassbender, A.J., Barbero, L., Hauri, C., Feely, R.A., and A.J. Sutton (2019). Timeof-emergence as a metric for prioritizing between climate observation quality, frequency, and duration. Geophysical Research Letters.
Research Technician Jacki Long participated in a cruise out of Bermuda meant to track a Saildrone measuring pCO2, pH, and oxygen while zigzagging across the Gulf Stream. The Saildrone was out for ~3 weeks in advance of the cruise and unfortunately experienced a catastrophic wing failure in 59 knot winds and 11m waves just one day before the cruise set sail. Bummer! Still, the science team collected underway pH and nitrate data from Dr. Yui Takeshita's (MBARI) BGC SUMO system and conducted underway CTD casts to collect contextual data from the region.
Fall 2018
Andrea visited Washington D.C. in December to participate in the OCB Synthesis and Intercomparison of Ocean Carbon Uptake in CMIP6 Models Workshop and gave a talk entitled Sensitivity of the ocean carbon sink to natural and anthropogenic carbon cycle interactions. She also gave a talk at AGU entitled A Modified Marine Carbon Cycle Under RCP8.5: Implications for Ocean Carbon Storage.
Andrea visited the University of Montana and gave a department seminar entitled: Chemical feedbacks in the climate system: A modified marine carbon cycle under business-as-usual carbon dioxide emissions
A new paper describing asymmetries in surface ocean pCO2 and pH seasonal cycle amplification under RCP8.5 and what it could mean for future ocean carbon uptake is now published in final form here. The accompanying commentary by Ryan Woosley can be found here.
Andrea and Stu Bishop (NCSU) gave an invited webinar to the US CLIVAR Interagency Group on the recommendations for carbon cycle research in Western Boundary Current regions resulting from the 2017 Ocean Carbon Hot Spots Workshop at MBARI.
Jacqueline Long was honored with the Sackett Prize for her excellent Master's researcher completed in the College of Marine Sciences at the University of South Florida. While in Florida, Jacki gave a department seminar entitled: Working toward a global PIC-ture of the biological carbon pump.