MBARI's Environmental sample processor wins R&D Magazine award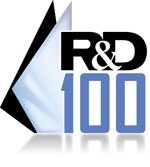 On July 20, R&D Magazine announced that MBARI's Environmental Sample Processor (ESP), a robotic undersea molecular biology lab, had been chosen as one of the 100 most technologically significant products introduced onto the marketplace during 2008. Over the last 46 years, R&D Magazine awards have highlighted such revolutionary devices as the flashcube, the fax machine, and the auto teller.
Ten years in development, the Environmental Sample Processor is in essence a robotic biochemical laboratory. Immersed in a body of water, it can automatically collect water samples, then extract genetic material (such as DNA) and other compounds from micro-organisms in the samples. By using the ESP to analyze the genetic material and other compounds, researchers can determine if certain organisms are present, and even monitor toxins that some organisms produce.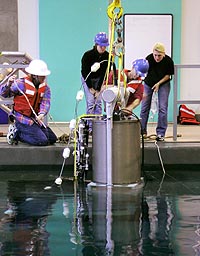 MBARI researcher Chris Scholin and his team developed the ESP for use in oceanographic research. In late 2008, MBARI entered into an exclusive agreement with Spyglass Biosecurity, Inc. to develop, manufacture, and sell systems based on the ESP. With their unique ability to monitor a variety of aquatic micro-organisms in real time, such systems could be used for applications ranging from environmental monitoring and waste-water treatment to homeland security.
According to James Birch, Instrumentation Group Leader for the project, "Winning an R&D 100 award is further evidence that the work we do here at MBARI matters in the larger world. The engineers and scientists involved in the ESP project are well-deserving of this award, and I am proud to serve on a team with them."
MBARI and Spyglass Biosecurity look forward to a day when monitoring systems based on the ESP can help make our lives safer from microbes in our environment and in our water supplies. The award from R&D Magazine suggests the growing potential for such high-tech devices.
For additional information or images relating to this article, please contact: Kim Fulton-Bennett
831-775-1835, kfb@mbari.org