MBARI's 2010 Annual Report—a colorful summary of past, present, and future research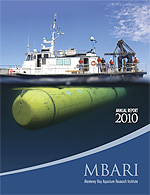 MBARI's 2010 Annual Report is a "must read" for anyone interested in the institute's cutting-edge expeditions, inventions, and scientific discoveries. It includes beautifully illustrated summaries of MBARI's research projects during 2010. Because many of these projects are continuing in 2011, the report provides great background reading on our current work. It also includes an entire chapter on future research efforts. The report was released this week and is available as a PDF file on MBARI's Publications web page.
This year's report is divided into five sections. The first section, titled Monterey Bay as Window to the World, describes recent and ongoing research in Monterey Bay. Some of this research is focused on developing better instruments for monitoring the ocean, such as a device to measure the pH of seawater (a measure of ocean acidity) that can survive for months in the harsh ocean environment.
Another highlighted study focuses on the types of animals that live at different depths in Monterey Canyon, and how these animals may respond to changes in oxygen concentration and ocean acidity. Yet another study looks at long-term changes in the types of microscopic algae in Monterey Bay at different times of year. Finally, this section describes the CANON experiment, an intensive, two-month program to examine in detail how the upwelling of cold, nutrient-rich water affects algal blooms and red tides in Monterey Bay.
The second section of the report, Expeditions, describes some of MBARI's major research expeditions during 2010. One unexpected expedition involved sending one of MBARI's autonomous underwater vehicles (AUVs) to help monitor the Deepwater Horizon oil spill in the Gulf of Mexico. Other expeditions used an AUV outfitted with sonar to map undersea volcanoes and to create detailed images of a sunken oil tanker off the coast of Central California. Another expedition used a robotic DNA lab (the Environmental Sample Processor) to study microbes living at a large methane seep in the deep sea off Southern California.
The third section of the report, Weird and Wonderful, highlights a few of the unexpected behaviors and new species of animals and microorganisms that MBARI researchers discovered during the past year. This is followed by a section called On the Horizon, which describes some of the large-scale collaborations and cutting-edge projects that MBARI will be involved in during the next few years. The last section of the report, Behind the Scenes, describes the essential role of the logistics group in MBARI's Marine Operations division, which schedules our ships, crews, and other assets in the face of continual changes in research plans, vessel availability, and sea conditions.
Whether you're interested in underwater robots, weird deep-sea animals, or innovative ways of monitoring ocean health, MBARI's 2010 Annual Report makes fascinating reading.
For additional information or images relating to this article, please contact: Kim Fulton-Bennett
831-775-1835, kfb@mbari.org