MBARI researchers win second place in Wendy Schmidt Ocean Health XPRIZE competition
MBARI researchers were part of a team that recently won second place in the Wendy Schmidt Ocean Health XPRIZE, a $2 million world-wide competition to develop an accurate and sustainable pH sensor for monitoring ocean acidification. Most pH sensors currently on the market are too costly, imprecise, or unstable to allow researchers to reliably monitor ocean acidification over long periods of time. The XPRIZE competition was designed to remedy this situation.
A group of MBARI researchers led by marine chemist Ken Johnson entered this competition as part of Team DuraFET. The team also included engineers and scientists from Honeywell Aerospace, the Scripps Institution of Oceanography, and Sea-Bird Scientific. Team DuraFET has spent the last seven years developing and marketing advanced deep-sea pH sensor technologies for scientific use.
The ocean is becoming more acidic because of the huge amount of carbon dioxide that humans are releasing into the Earth's atmosphere each year. Much of this gas is absorbed into the ocean, where it forms carbonic acid. Ocean acidification can harm marine life and impact human activities such shellfish aquaculture.
In fall 2014, 18 teams from around the world brought their sensors to MBARI for a three-month test in the controlled environment of MBARI's test tank. Fourteen of these teams continued on to a monthlong performance test in protected coastal waters at the Seattle Aquarium. In June 2015, just five teams traveled to Hawaii for a six-day trial at a depth of 3,000 meters in the deep sea. The final results were announced at a ceremony on July 20, 2015 in New York City.
The teams competed for two different prizes—one prize for accuracy, both in shallow water and in the deep sea, and a second prize based on affordability and usability.
Sunburst Sensors, a small company from Missoula, Montana, won first prize in both the accuracy and affordability categories, earning $750,000 for each prize. Sunburst's instruments use an automated spectrophotometric system that mixes specialized dyes into a seawater sample, then shines a laser through the sample to determine the pH.
Team DuraFET's entry won second-place in the accuracy category. The second-place prize in the affordability went to ANB Sensors from Cambridge, England. Each of the second-place teams won $250,000.
Team DuraFET's entry was based on Honeywell's solid-state Ion Sensitive Field Effect Transistor, which was originally developed for bench-top pH measurements. MBARI and Scripps researchers helped adapt this technology for use in the ocean and the deep sea. Johnson and his colleagues developed this system using grants from the National Science Foundation, the National Oceanographic Partnership Program, and the David and Lucile Packard Foundation.
Team DuraFET will donate their prize money to the Argo ocean observing program. Argo is an international project dedicated to the observation of temperature and salinity of the earth's oceans. This donation will enable Argo to begin broadening its mission to include ocean acidification monitoring.
"I am delighted that the innovations coming out of this competition will meet the needs of scientists helping us to understand better how connected our life is to the health of the ocean."
—Wendy Schmidt, president of The Schmidt Family Foundation
"The oceans are an essential natural resource whose resilience is being challenged by increasing acidity," Johnson said. "But we don't know how bad the problem is because regions away from the coast are almost completely unobserved due to the logistics and costs of operating research ships. The DuraFET pH sensor allows robotic observing of noncoastal regions, serving as a low-cost, easy-to-deploy sentinel for ocean health."
Reflecting on the competition as a whole, Wendy Schmidt, president of The Schmidt Family Foundation and co-founder of The Schmidt Ocean Institute, said "Over the past two years, we have seen impassioned and dedicated teams from around the world compete to bring us much-needed tools to accurately and reliably measure ocean pH and catalyze our ability to respond to ocean acidification. I am delighted that the innovations coming out of this competition will meet the needs of scientists helping us to understand better how connected our life is to the health of the ocean."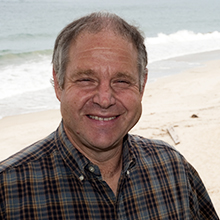 Hans Jannasch
Senior Research Specialist
For additional information or images relating to this article, please contact: Kim Fulton-Bennett
831-775-1835, kfb@mbari.org