MBARI AUV Supervisor Drew Gashler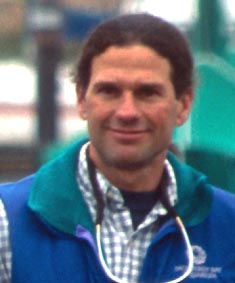 Drew Gashler, supervisor of autonomous underwater vehicle operations at the Monterey Bay Aquarium Research Institute in Moss Landing, California, was killed in an avalanche while cross-country skiing near Lake Tahoe on New Year's Day. He was 37 years old.
"We all feel a terrible and senseless loss," says MBARI President and CEO Marcia McNutt. "It was impossible to work here and not be impressed with Drew Gashler. There seemingly was no end to how far a talented guy like Drew could go."
As AUV supervisor, Gashler was responsible for operating and maintaining the Dorado AUV for science missions. Recently Dorado reached a milestone in completing 1000 kilometers (621 miles) of near-monthly oceanographic surveys in Monterey Bay. Gashler had planned to present results from this accomplishment at an upcoming science meeting.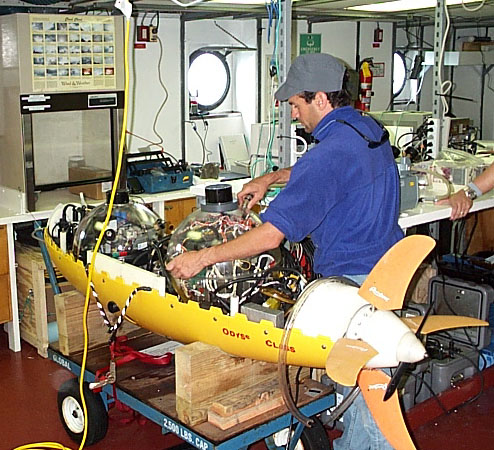 Drew began at MBARI as a science technician in 1996. Initially he maintained oceanographic instruments on MBARI's ships, remotely operated vehicles, and moorings. In 1998 he joined the engineering team for MBARI's new autonomous underwater vehicle program where he coordinated AUV operations on many research cruises, including a month-long field trial in the Arctic Ocean. He became AUV supervisor in March 2002 to lead the transition of Dorado to marine operations.
Before coming to MBARI, Drew completed a master's degree in physical oceanography at the Moss Landing Marine Laboratories. Prior to that he was a science teacher at San Benito High School  in Hollister, CA and in the US Peace Corps in Nuku'alofa, Tonga. He graduated from Stanford University in 1988 with a B.S. in physics.
For additional information or images relating to this article, please contact: Kim Fulton-Bennett
831-775-1835, kfb@mbari.org