Andrew T. Klesh
NASA Jet Propulsion Laboratory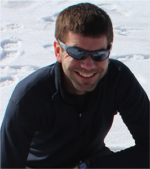 Wednesday, May 17, 2017
Pacific Forum—11:00 a.m.
New scientific discoveries abound and the more we seem to learn about this, or other worlds, the more there seems to be to discover! But exploration requires risk, and it is impossible to explore every location with an expensive flagship endeavor. Instead, smaller, lower-cost spacecraft, rovers, and underwater vehicles are being created, and built from the advancement and abundance of miniaturized electronics. In this talk, we'll examine the exponential growth of small spacecraft, and how their prevalence (along with new discoveries on ocean worlds beyond the Earth) is leading to novel underwater vehicles, including the Buoyant Rover—a vehicle to explore the underside of ice shelves. Results from recent arctic field tests will be presented and several vehicles will be on hand.
Next: June 7, Matthew James