Our role in improving the sustainability of global fisheries and aquaculture
Jennifer Dianto Kemmerly
Vice President of Global Ocean Initiatives
Monterey Bay Aquarium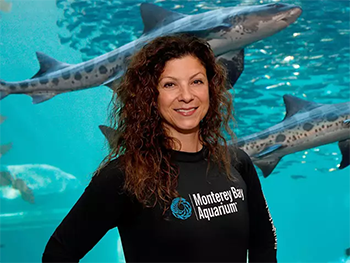 June 24, 2020 at 11:00 a.m.
Watch here
Fisheries and aquaculture play a critical role in food security and economic growth worldwide. Billions of people rely on fish as a primary source of protein and essential nutrients, and almost 60 million livelihoods are supported by the fishing and aquaculture sectors. It is widely acknowledged that without strong management and stewardship, fishing and aquaculture activities can have deleterious environmental impacts affecting ocean health and resilience, ultimately undermining the function of alleviating hunger and poverty in the developing world, and in supporting sustainable economic development goals.
When the Seafood Watch program launched in 1999, Monterey Bay Aquarium set out to create a market demand for seafood from sustainable fisheries and aquaculture operations. Our strategy intended to harness consumer pressure and business purchasing policies to incentivize environmentally responsible harvest practices and improved resource management. The program's popularity grew at a rapid pace resulting in partnerships with leading food service companies and influential retailers. As more consumers, businesses, and NGOs came to rely on Seafood Watch information, the program developed robust standards for assessing the environmental performance of fisheries and aquaculture. Today, a global network of stakeholders uses Seafood Watch information and tools to raise awareness, implement sustainability commitments, track progress, and inform improvements in fisheries and aquaculture production and governance.
During the presentation, we will share the Seafood Watch program's evolution from a consumer-facing campaign to a global advisor on the sustainability of fisheries and aquaculture. We will review transformative partnership projects to improve shrimp aquaculture and blue swimming crab fisheries in Asia and discuss our efforts with the farmed salmon industry to reduce chemical use in Chile. We hope to engage participants in a discussion as to the role of technology and innovation in these projects and support of the Monterey Bay Aquarium's sustainable fisheries and aquaculture work overall. We hope that the comments shared during the discussion can help inform future presentations and collaboration moving forward.