President & CEO, Consortium for Ocean Leadership, Inc.
Challenges and opportunities for ocean science and technology: How can we create a better tomorrow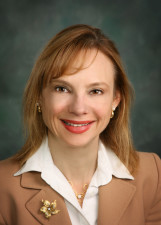 Monday, June 1, 2015
Pacific Forum—2:30-4:00 p.m.
Science, the scientific process, and the value that both bring to the well-being of the nation have been under attack in Washington, D.C. and beyond. Federal funding for science has been declining over the last several years, with seemingly disproportionate cuts being proposed for the ocean and geosciences budgets across the federal budget. Serving as the collective voice of its membership, the premier U.S. ocean research and education institutions, the Consortium for Ocean Leadership is your Washington advocate for federal support of science and technology funding, as well as coordinating and facilitating science programs and partnerships. Ms. Sherri W. Goodman, President & CEO of Ocean Leadership, will lay out the landscape of federal science priorities, the current challenges facing the ocean sciences in Washington, D.C., and the importance of proactive community engagement with ocean advocacy activities at the national level. She will also highlight recent Ocean Leadership efforts that represent important accomplishments for the broad ocean sciences community and how strong engagement of the Ocean Leadership Members underpins Ocean Leadership's reputation as the unbiased and credible provider of sound scientific input on ocean issues. Ms. Goodman has been invited by Ocean Leadership members in the Monterey Bay area to make a public presentation on these issues at the Monterey Bay Aquarium Research Institute in the MBARI Pacific Forum.
*Please RSVP by Thursday close of business on May 28th to Amy Castner at acastner@oceanleadership.org
Next: June 3—Kathy Dunlop