Flower Garden Banks National Marine Sanctuary and
Women Divers Hall of Fame
Exploring spectacular reefs and banks in the Northwestern Gulf of Mexico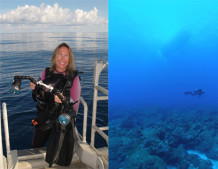 Wednesday, July 8, 2015
Pacific Forum—11:00 a.m.
Discover the surprises and beauty of the Northwestern Gulf of Mexico with Emma Hickerson. Emma is the research coordinator for NOAA's Flower Garden Banks National Marine Sanctuary, and was recognized for her contributions and efforts when she was inducted into the Women Divers Hall of Fame in 2014. The Gulf of Mexico is sometimes known as America's "Forgotten Sea" because most people do not realize the riches that lie within her waters. Explore the remarkable reefs and banks scattered across the outer continental shelf that have been the focus of extensive research and characterization by Emma and her team over the last fifteen years. This story is told through personal experiences and stunning imagery of coral reefs, whale sharks, manta rays, sea turtles, and other marine creatures. Venture to the depths of the Gulf of Mexico with submersibles and remotely operated vehicles (ROVs) to unlock the secrets of the distinctive corals of the "twilight zone" and diverse geologic features such as mud volcanoes and brine seeps. Emma's scientific efforts and personal priorities have significantly enhanced resource management capabilities in the region, and provided for substantial public outreach. Emma's journey began across the Pacific on the shores of Sydney, Australia, and led her to the Texas coast, with many adventures and learning opportunities along the way. Come join us for this remarkable presentation and immerse yourself in the third coast wonders of the Gulf of Mexico.