Natural Resources Defense Council
Fish Tales: Ontogeny of a scientist advocate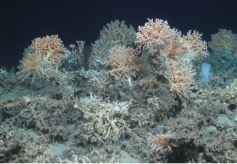 Wednesday, July 22, 2015
Pacific Forum—11:00 a.m.
During the EU-funded project CoralFISH we explored the Cold Water Coral (CWC) Reefs of European margins from the Mediterranean to Iceland. Both historical records and multibeam data were used to locate reefs that were then explored and sampled with a remotely operated vehicle. Discovered about 25 years ago in Norway, Cold Water Coral reefs in European waters are often designed as 'Lophelia reefs', as they seemed mainly built by the Scleractinian Lophelia pertusa. One of the first observations of the cruises from the Mediterranean to Iceland was the systematic occurrence of the other reef building Scleractinian, Madrepora oculata, adding another important player to our understanding of the ecology and model habitat distribution of CWC reefs in these regions. Genetic analysis based on the systematic standardized sampling of reefs spanning from the Southern Bay of Biscay to Iceland showed a limited importance of clonality and contrasted patterns of present and past connectivity for both species.
Next: July 30—Caitlin Schrein