Mesopelagic fish ecology and NOAA ocean exploration program
Amanda Netburn
Knauss Fellow, NOAA Office of Ocean Exploration and Research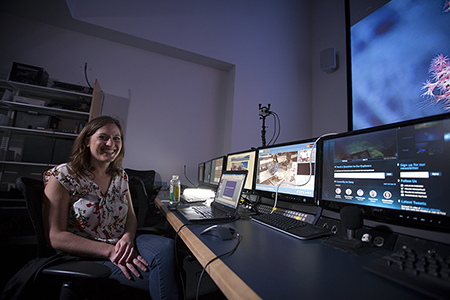 Wednesday, July 20, 2016
Pacific Forum—11:00 a.m.
For this seminar, I will present two studies from my dissertation research on mesopelagic fishes, with an overview of NOAA's ocean exploration activities. In the first study, I investigated the potential physiological vulnerability of mesopelagic fishes to ocean deoxygenation by measuring their metabolic enzyme activities in varied oxygen conditions throughout the southern California Current Ecosystem. In the second study, I compared the abundance, composition, and reproduction of mesopelagic fish assemblages at frontal systems. Results suggest that deoxygenation may cause metabolic suppression, while fronts can alter the assemblage structure and reproduction of vertically-migrating mesopelagic fishes. In the final part of the talk, I will provide an overview of NOAA's deep-sea exploration and research activities, our community-driven approach to exploration, ROV and mapping operations, telepresence capabilities, education and outreach programs, multi-year campaign strategy, and applications of data. Finally, I will discuss the emerging water column program, and share opportunities for collaboration.
Next: August 3, Darcy Taniguchi