Vehicle Persistence Update
Our new project, Fault Prognostication (see below) is just underway. We're in the process of adding a bunch of monitoring equipment to a benchtop version of the LRAUV (hyperlink to LRAUV pages) that we'll feed to unsupervised learning algorithms in order to learn the internal representation. Our initial focus is the vehicle's pitch pack, and to study it we're writing a LabView interface that will collect time-resolved data from a pair of vibration sensors + power usage + absolute position measurement.
Back in September Ben presented a paper on classification of vertical plane failures by Topic Models (hyperlink to paper) at the IEEE Oceans conference. The paper was very well received. Since then we've looked at more field data and examined in detail how perplexity changes after a new state is discovered. We just submitted a comprehensive article to the Journal of Field Robotics' special issue on Ocean Robotics.
The figure below shows an example of using Topic Modeling for fault detection. Each "topic" is a probability distribution learned from the data, and the plot shows the 2D projections of all the topics that are found (projection with Principal Component Analysis). What is interesting is that without our telling the system what to look for (unsupervised learning), it was able to match each of the commanded policies (float on surface, pitch, surface, hold depth) AND the fault state that arose after the vehicle's mass shifter failed but before the vehicle's software figured it out, AND the fault state after the software realized it.
Very encouraging results but we're not quite sure yet how well it will generalize.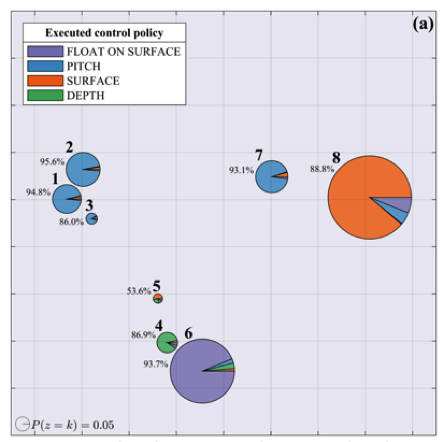 2D projection of the vertical plane topics learned from the vehicle's sensory data.Save