The South Indian Ocean: A tale of
physical-biogeochemical interactions
Isa Rosso
University of California, San Diego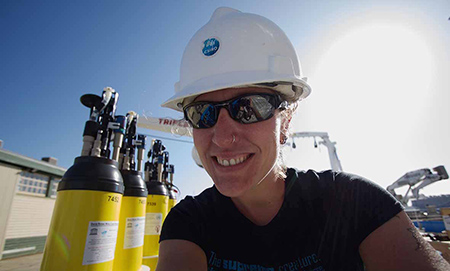 June 6, 2018
Pacific Forum—11:00 a.m.
The Southern Ocean is dominated by complex dynamics and characterized by structures with scales ranging from one (submesoscales) to hundreds of kilometers (mesoscales). Despite the overall low chlorophyll concentration of the Southern Ocean (limited by iron), there are several locations with intense phytoplankton activity. Understanding the physical-biogeochemical system in the Southern Ocean is crucial for its major role in the global carbon and climate systems.
In this talk, I will present some results from a very high-resolution model of the Indian Ocean sector of the Southern Ocean, fundamental for its dynamics and biological activity. Results show that sub-mesoscales structures enhance the supply of iron to surface waters. Furthermore, I will present some novel data from the Southern Ocean Carbon and Climate Observations and Modeling (SOCCOM) biogeochemical floats, deployed in the Indian Ocean. Data not only capture the complex circulation of the region, but also reveal characteristics of the seasonal cycle of its physical-biogeochemical system.
Next: Isa Rosso