2017 Summer Intern Profile: Emma Bueren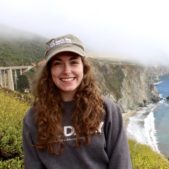 Name: Emma Bueren
Project/Mentor: Science communication with Nancy Barr
School: University of Washington
Hometown: Mukilteo, Washington
Tell us about your project:  I'm working with Nancy Barr to update a variety of pages on MBARI's website, as well as co-running the intern blog with Alia Thompson.  My main project for the 10 weeks is to help Jim Birch update and expand the web-page of the Environmental Sample Processor (ESP), which performs simple biological assays to determine the microbial content of the ocean in real-time. As well as working on this project, I've gotten to go out to sea to watch how  hydrophones are used to map pelagic ecosystems, learned about a few of MBARI's next generation autonomous tools, and practiced my writing and photography skills.
Why did you want to intern for MBARI: My dad is the chief engineer of an oceanographic vessel, so I guess the apple doesn't fall far from the tree. Growing up, he always had amazing stories that instilled a love of science and engineering in me. While I'm definitely no engineer, I'm constantly amazed by how technology lets us explore the deepest parts of the ocean. Plus, I wanted the chance to tell some stories of my own.
What's been your favorite part of MBARI so far: For the blog, Alia and I are running a "mystery" photo each week where we take close-up photos of things around MBARI and the beach. Some of the legwork for that has been super fun, and I've had a chance to practice my macro photography. I also really love hearing about everyone's research and just talking to different scientists— everyone is so passionate about their work!
And, if you had a boat, what would you name it? The R/V "What's That?" or maybe the S/V Dramamine.
Meet the rest of MBARI's 2017 Summer Interns