2017 Summer Intern Profile: Chloe Weinstock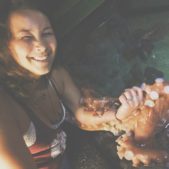 Name: Chloe Weinstock
Project/Mentor: Deep-sea bioluminescence with Steve Haddock
School: Whitman College
Hometown:  Davis, California
Tell us about your project: I'm working on the mechanism for bioluminescence in deep-sea organisms. The Haddock lab researches bioluminescence, biodiversity, and ecology of deep-sea zooplankton, with a wide range of projects across multiple disciplines. This summer, I'll be working on a couple different projects, the first of which is trying to identify the light-emitting molecule (called "luciferin" or a "photoprotein, depending on the mechanism) in a "mystery mollusc", sea cucumber, and potentially a nudibranch. The other is looking at the gene that encodes the photoprotein symplectin in Vampyroteuthis infernalis, the vampire squid, which is really, really cool. I'll be trying to amplify the gene and clone it into bacteria to see if I can express the bioluminescent protein, which would confirm symplectin as the luminescent molecule in the vampire squid.
Why did you want to intern for MBARI: I was that kid that convinced myself that my best friend was a bat ray named Buddy and he lived in the touch tank at the Monterey Bay Aquarium. He had a scar on his wing and whenever I came to visit he would swim up to me. That was my dream. So I followed marine biology and ended up on a research expedition to the Mariana Trench, where a scientist told me that he used to work for MBARI. The name and project that I remembered from that experience was Steve Haddock and bioluminescence. Studying bioluminescence is like studying magic, and working at MBARI is the most challenging, exciting, and fulfilling experience. I feel like I've found my place and my people. If the aquarium was my childhood dream, then MBARI is my adult-ish dream. This is where I want to end up, and interning feels like a really good first step.
What's been your favorite part of MBARI so far: Can I just say everything here? I've already gone on a ship for a week collecting the coolest little gelatinous glowing creatures, hugged an octopus for an hour, and worked for hours in the dark running experiments on animals that light up when you poke them. But I think that my favorite part of working here has been seeing how crazy smart everyone who works in my lab is. It's a little intimidating, but mostly really exciting. I've learned so much already. I've been doing research in areas I have no experience in, which would be terrifying but I have so much support from the people around me. Not only is everyone intelligent, but they're all still excited about the work they do.  I think that's a really special thing. Not everyone can say that they love their work, so it's truly inspiring being able to work with people that are still genuinely excited about what they do every day. So I'm looking forward to continuing to work with these incredible people, expanding my research repertoire and really getting into this vampire project.
And, if you had a boat, what would you name it? R/V Thar She Glows.
Meet the rest of MBARI's 2017 Summer Interns