HOT DOGS Data Visualization
Watch this video to learn what HOT-DOGS is all about.
Station ALOHA is a multidisciplinary hydrostation situated in the North Pacific subtropical gyre.  A host of biological and chemical variables have been measured at this site on a near-monthly basis since October 1988.  Such data sets provide a rare and valuable opportunity to analyze fundamental geophysical dynamics and ecosystem processes.  Fortunately, these data are available for online public access and can be downloaded for students to explore a wide range of research questions.
Instructions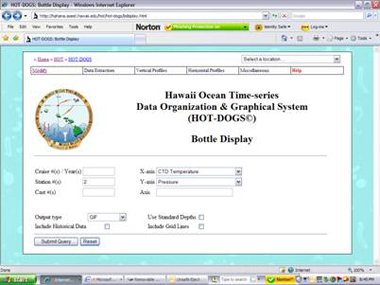 From the menu at the top of the screen, go to Vertical Profiles > Display > Bottle
Enter cruise number (178, for February 2006), station (2, for ALOHA);
leave cast numbers blank
Enter axis variables:

X-axis: "Nitrate + Nitrite
Y-axis: "Pressure"
C-axis: leave blank

Set Output type as a "text"
Click "Submit Query;"  The data will be displayed as follows:
Highlight the displayed data (CTRL+A) and copy it (CTRL+C)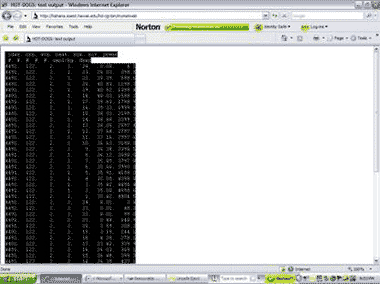 Open a new document in your text editor (Notepad, WordPad, TextEdit; usually in your utilities or accessories folder)
Paste the data into the new document (CTRL+V).
Save the file on the desktop or in an easy-to-find folder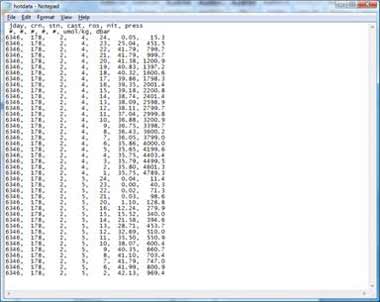 Repeat this procedure for Phosphate (Choose "Phosphate" for the X-axis in Data Visualization step 4-a)
Continue on to BATS Data Visualization