March 15, 2015
Rebeca Gasca writes: This is a new, exciting opportunity to work with colleagues at MBARI and other institutions, all interested in exploring the peculiar and poorly-known fauna dwelling in the water column but especially in deep waters. The ROV Doc Ricketts is collecting valuable biological samples and enabling us to discover fauna that can't be seen or studied in any other way.
Esta es una nueva oportunidad de trabajar con los colegas de MBARI y otras instituciones, todas interesadas en explorar la fauna tan peculiar y pobremente conocida que habita la parte más profunda de la columna de agua. En esta zona el ROV (Vehículo de Control Remoto) puede recolectar material biológico invaluable y hace posible descubrir una fauna que difícilmente puede ser vista o estudiada en otra forma.
My main interests are the hyperiid amphipods and the associations among these and other pelagic crustaceans with gelatinous planktonic organisms like medusae, siphonophores, and ctenophores. Over the past 12 years, since the first MBARI cruise in Gulf of California waters took place in 2002, the MBARI ROVs have allowed us to greatly improve our knowledge of the diversity, physiology, and ecology of the deep-water fauna of the Gulf.
Mi interés principal es el estudio de  los anfípodos hiperídeos y las asociaciones entre ellos y otros crustáceos pelágicos con organismos gelatinosos como las medusas, los sifonóforos, y las salpas. A lo largo de estos 12 años desde el primer crucero de MBARI en aguas del golfo de California en 2002, el ROV nos ha permitido mejorar de manera significativa el conocimiento acerca de la diversidad, la fisiología, y la ecología de la fauna que habita las aguas profundas del golfo.
It has certainly been a gratifying experience to observe taxonomists investigating different zoological groups, working together to achieve a fundamental goal: the discovery and understanding of the deep-sea life. The progressive exploration of this intriguing fauna has revealed to us organisms that are strikingly different from those inhabiting the photic zone, and how bizarre and beautiful they are. Each of them has evolved to adapt to survive in the darkness and the extreme environmental conditions present in the deep waters, a habitat in which not so long ago, life was deemed impossible. The study of the deep-water biological communities still has many important data and biological mysteries to reveal.
Ha sido una experiencia gratificante observar el trabajo de los biólogos investigando diferentes grupos zoológicos, todos trabajando juntos para un propósito fundamental: el descubrimiento y entendimiento de  la vida en las aguas profundas. La progresiva exploración de este intrigante fauna ha revelado organismos bizarros y hermosos, que pueden ser muy diferentes de los que viven en la zona iluminada. Cada uno de ellos ha evolucionado para adaptarse a sobrevivir en la oscuridad y en las condiciones ambientales extremas de las aguas profundas y habitar una zona que no hace mucho se consideraba que la vida era imposible. El estudio de las comunidades biológicas de las aguas profundas tiene aún muchos misterios que resolver.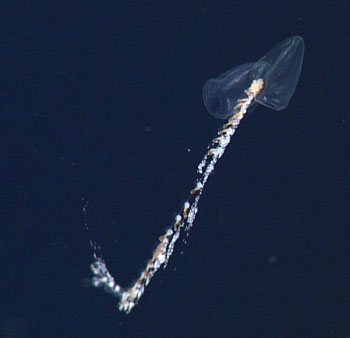 Last night we transited north to our next dive site at Cerralvo Canyon. I have been closely observing medusae for any associated animals. It was a big surprise to look under the bell of this small jelly (below) hoping to find an amphipod, but instead finding a sea spider (pycnogonid) tucked up inside! Pycnogonids are more typically found on the seafloor, but occasionally we see them hitchhiking on jellies far from the bottom.
—Rebeca Gasca